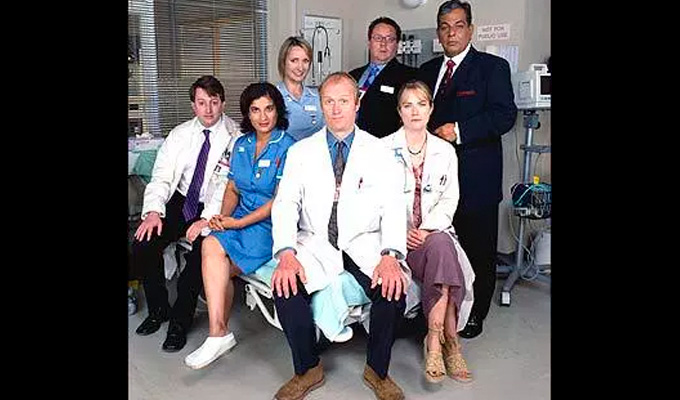 The forgotten Adrian Edmondson and David Mitchell sitcom
It is a sitcom that will probably always remain a footnote in the careers of the comedians who starred in it.
Indeed, the hospital-set Doctors & Nurses is so largely forgotten that just 14 years after it aired, there is virtually no trace of it on the internet, despite its high-profile stars, Adrian Edmondson, David Mitchell and Mina Anwar.
At least until now. Because a David Mitchell fan has tracked down the missing sitcom, recorded on VHS from the original broadcast in January 2004, and posted it on YouTube.
Originally airing just a few months after the launch of Peep Show, the comedy starred Mitchell playing to type as the naive but privileged private doctor Toby Stevens, with Edmondson as his beleaguered NHS counterpart. Mina Anwar plays nurse Zita Khan, a possible romantic interest for Edmondson's character, Dr Glover. Joanna Scanlan, Back's Geoffrey McGivern and Not Going Out's Abigail Cruttenden all have minor roles in the comedy, too.
Rhianna Evans, who runs the Dose Of David Mitchell fan site, wrote: 'I'd probably been searching for this since about 2008. I'd seen the odd photograph on the Radio Times website (long since deleted) and started asking around on message boards, contacting the BBC, emailing The British Comedy Guide and even trying to find contact information for Carlton as they produced/ funded it but absolutely nothing turned up.
'So I gave up. But then occasionally I would take up my quest for Doctors and Nurses again. Still nothing ever happened though and I often wondered if this search was worth it? And also why this sitcom had seemingly evaporated with only the tiniest hints on the dustiest corners of the internet giving proof of its existence!'
But a fan site contributor using the handle @ChasquiPenguin said she'd got a few episodes on VHS, which turned out to be the full series.
Evans added that the sitcom – written by  written by Nigel Smith and Dr. Phil Hammond – did not deserve to be consigned to the dustbin of history.
'There was absolutely no way this sitcom should have been lost to the point of near extinction and I'm so glad we were able to find it again. The main cast put in great performances and the characters are strong. It certainly deserved a second shot but as it was, told its story well across one series.'
Here is the first episode and the other five are available here.
Published: 1 Jun 2018
What do you think?