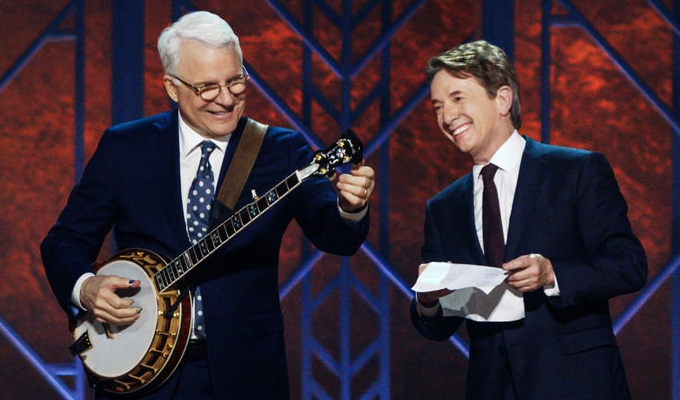 Martin and Martin
This week's comedy on demand…
Steve Martin and Martin Short: An Evening You Will Forget for the Rest of Your Life
Friends since they worked on Three Amigos in the Eighties, Steve Martin and Martin Short offer an almost vaudevillian mix of gags, songs and anecdotes in an unapologetically old-school evening of chummy entertainment in this new Netflix special. Watch here.
/p>
Tig Notaro Happy To Be Here
Also out on Netflix is Tig Notaro's latest special. She's a stand-up who's covered some pretty bleak subjects in her comedy, such as breast cancer and her mother's death. But this one comes from a happier place, with the comic in a contented marriage to Stephanie Allynne with twin sons Finn and Max and the family cat Fluff. So despite her track record, the title is not ironic, she's actually genuinely upbeat. Watch here.
Troll Play
This new podcast about the less edifying exchanges on the internet comes from Australian comic Alice Fraser, already known for her Tea With Alice podcast and many guest stints on The Bugle. It's her response to the 'hot streaming rivers of hate' she encountered every day as a social media moderator for a popular TV show… as well as just being a woman who has the audacity to pop her head over the parapet. Fellow comedians Cal Wilson and Sami Shah join her for this podcast, made by Australian broadcaster ABC, with the aim of turning 'the manure of the internet into flowers of joy' – from low-level trolling to the more institutionalised levels of judgment from sites like MailOnline. Subscribe and listenhere
Victoria Wood: From Soup To Nuts
Rebecca Front hosts this two-part Radio 4 series remembering Victoria Wood through her stand-up and songs . The show features never-heard-before material from Wood's own archives and tapes, as well as some of her better-known work. But it makes no great claims for biographical insight, just a chance to dust down some classic comedy material. Listen here.
Published: 26 May 2018
What do you think?