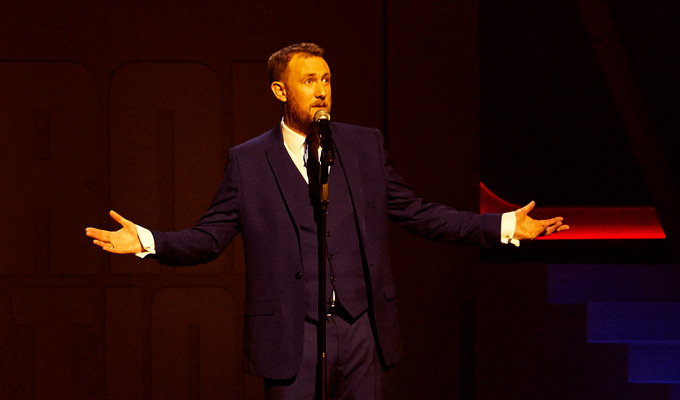 Dave gets Horney
The week's comedy on TV and radio.
Sunday May 20
GEOFF NORCOTT: RIGHT LEANING BUT WELL MEANING: This week's Sunday stand-up slot on Radio 4 goes to a Tory-voting Brexiteer, a rare breed on the comedy circuit. In this show, Norcott introduces us to his family, his early career as a teacher and how he ended up on Question Time. Also with actor Leanne Everitt and fellow comic Barry Castagnola. Radio 4, 7.15pm
Monday May 21
FOOTBALL'S 47 BEST WORST SONGS: Bob Mortimer – no stranger to the football song himself (see Middlesbrough's 1997 FA Cup Final song, Let's Dance, below) runs down the best and very worst the beautiful game has had to offer with the help of footballers, pundits and comics including David Baddiel, Justin Moorhouse and Keith Allen.

Thursday May 24
THE HORNE SECTION: Dave gives two hours of primetime over to Taskmaster creator Alex Horne and his backing band for this comedy and music spectacular, filmed at the London Palladium. The jazz/comedy hybrid also features guest performances from Nadine Coyle, Sue Perkins, Sara Pascoe and Joe Wilkinson. Read an interview with Horne speaking about the show here Dave, 9pm.
URBAN MYTHS: PUBLIC ENEMY: This week's film, inspired real events, tells of the time rap legends Public Enemy got stranded on the outskirts of Sheffield when their tour bus left without them. Desperate to get to their gig, a knight in shining armour arrives in the form of Kev (Philip Glenister), an unassuming local who happens to be a huge Public Enemy fan who ferries them to their show in his Ford Focus. Sky Arts, 9pm
Saturday May 26
HOW THE YOUNG ONES CHANGED COMEDY: This one-off explores the legacy of one of the most influential British comedy series of all times, combining archive footage with revelations from many of the stars who were involved both in front of and behind the camera - such as Nigel Planer, Alexei Sayle, John Lloyd, Paul Jackson and Lise Mayer - while comedians that followed in its wake discuss how it influenced them and galvanised the British comedy scene. Gold, 9.30pm
TREVOR NOAH: AFRICAN AMERICAN STAND-UP: The Daily Show host's 2013 stand-up special, originally shot for Netflix, is being screened on Comedy Central tonight. It tells of his journey from Apartheid-era South Africa to his new home in America. 10pm.
Published: 20 May 2018
What do you think?