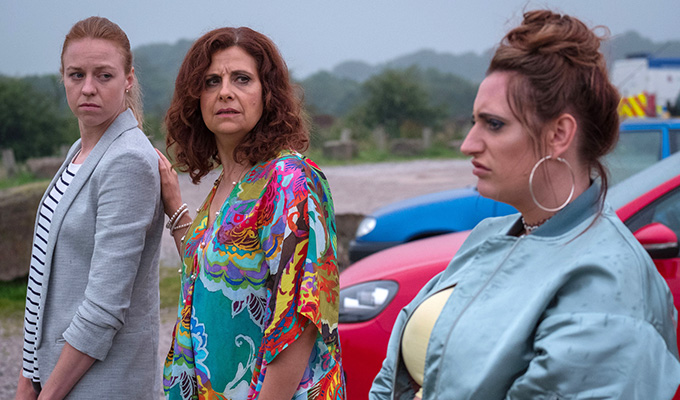 BBC picks up bigamy comedy
BBC Two has commissioned Holly Walsh's unconventional family sitcom The Other One for a series, Chortle can reveal.
The comedy stars character comic Ellie White and Catastrophe's Lauren Socha as half-sisters, both named Catherine Walcott, who had no idea the other existed until their bigamist father dropped dead.
Rebecca Front, Amit Shah and Cold Feet's Siobhan Finneran co-star in the six 30-minute episodes, which are set to air in late 2019.
The commission follows a successful pilot in September.
Walsh writes with producer Pippa Brown and executive produces with Ben Cavey for Cave Bear Productions.
Shot in Manchester and directed by Ideal's Dan Zeff, the pilot was part of the BBC's New on Two strand, which has also resulted in series commissions for the Johnny Vegas sitcom Home From Home, and Motherland, which Walsh writes with Sharon Horgan and Graham and Helen Linehan.
'It's a classic "odd couple" I suppose,' she told the i newspaper at the time of the pilot. 'One is uptight and spends her spare time watching Ted Talks – the other goes with the flow and basically only eats crisps.
'The characters naturally evolved from the idea. It's a peculiarly male phenomenon – bigamy – it'd be much harder to have two simultaneous secret families if you were a woman.
'I wasn't that interested in the story of a guy living a double life – it was the people who were left behind that I wanted to write about.'
Reviews for the pilot were strong, with Euan Ferguson in the Observer hailing it as 'assuredly … looking for a commission, written by the fab comedian Holly Walsh … an unlooked-for delight, a fresh and wildly enjoyable half-hour'.
In the Telegraph, Michael Hogan admired 'a strong cast and whip-smart script [with] plenty of potential for a full series – not least because of a delicious twist in the closing scene.'
You can read Chortle's review here.
Meanwhile, Motherland – which Horgan confirmed is returning for a second series last month – has been picked up to air in the US, with the first two episodes airing on the streaming service Sundance Now from May 10.
- by Jay Richardson
Published: 30 Apr 2018
What do you think?