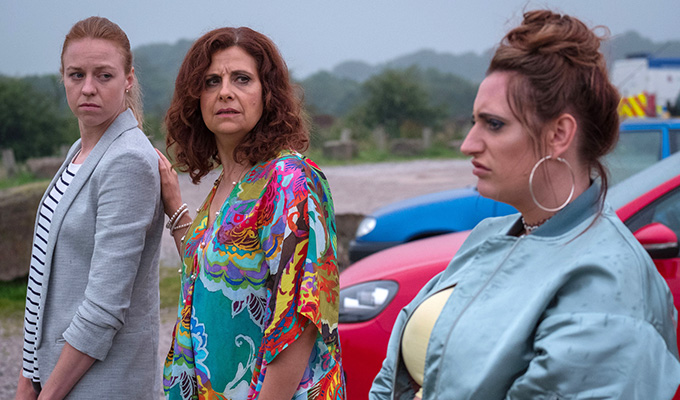 The Other One
At a preview screening of The Other One, executive producer Ben Cavey expressed his hope that the BBC Two pilot might become the next Gavin & Stacey.
Certainly, it is a show driven more by drama than by comedy, but the will-they/won't-they dynamic here is not romantic – but a question of whether the two families of a bigamist will get on.
For when Colin Walcott suffers a fatal heart attack at a surprise birthday party, his duplicitous life is revealed. Seemingly in a contented marriage to Tess and faithful father to Catherine, the truth is he has a bit on the side, fathering another child with the more working-class Marilyn – a daughter who he conveniently also calls Catherine. His funeral, and the practical consideration of what to do with Colin's ashes forces the two Catherines together, despite the personal and class tensions.
Catherine No 1, played by Ellie White is frumpy and permanently uptight, her social interaction comprising twee jokes about her dull but secure job in reinsurance. Meanwhile, Catherine No 2, known as Cat for clarity, is her polar opposite. Played by Misfits star Lauren Socha, she has no filters, boasting of 'completing Tinder' and knocking back cheap energy drinks, despite never obviously expending energy.
Yet there's a heart behind both White's uptight ice maiden and Socha's unreconstructed chav that allows them to form a tentative, unlikely friendship, the obvious friction between the pair ameliorated by the fact he had lied to them both.
Strong as these characters are, they are overshadowed by Rebecca Front as the betrayed Tess. With everything she thought certain crashing around her, she embarks on a drunken grief- and revenge-fuelled attempt to sleep around, with no clue as to what she's doing. It's a great role for Frost, a brilliant departure from her usual characters who at least try to hold it all together, and she seizes it with relish.
The few men in Holly Walsh's script are marginal at best, shits at worst. Bigamist Colin we see only briefly. Then there's Marcus (Amit Shah) the weak and emasculated fiancé of White's Catherine, in the doghouse for sharing dick pics with a work colleague.
Drop The Dead Donkey alumnus Neil Pearson puts in a fine turn as one of Tess's internet dates, an ageing smoothie succumbing to her drunken advances despite his protestations that he's looking for something more meaningful after a string of one-night stands, resulting in a beautiful awkward car park fumble
Admirably, Walsh covers quite a lot of ground in her 30 minutes –including a payoff that suggests further storylines to be plundered should this pilot be picked up for the full series. It certainly seems to be the one of the BBC's current batch of pilots with the most promise so far, with its heightened soap opera drama played out with a natural, earthy humour and big but believable characters.
• The Other One is on BBC Two at 10pm tonight.
Review date: 13 Sep 2017
Reviewed by:
Recent Reviews
What do you think?