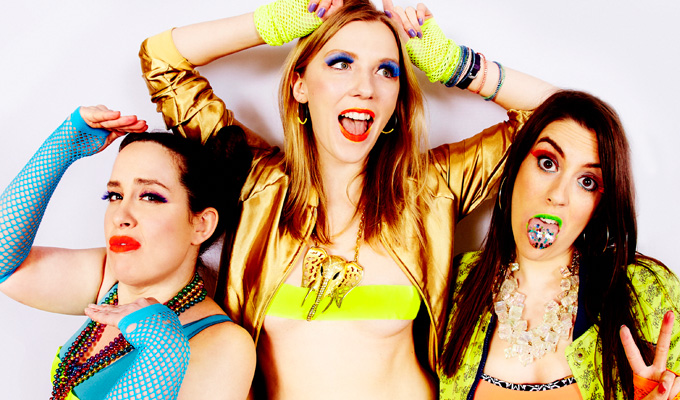 The Birthday Girls throw a party
This week's comedy on demand…
Birthday Girls' House Party
Comedy sketch group Birthday Girls launched their new Radio 1 podcast this week – and what better theme for April than Halloween? In this first episode Beattie Edmondson, Camille Ucan and Rose Johnson throw a fancy dress house party – or at least that's the theme of their loose, funny chat – and James Acaster drops by. Listen here.
Female Friendly
American performers Chelsea Alana Rivera and Taylor C. Baker created this professionally-shot web series about two women finding their voice in a male-dominated field: porn.
Female Friendly charts their ups and downs of creating a business with their female-friendly production company while struggling with their relationships. It's already scooped a handful of awards, two bonus episodes are due to be released on Monday at a live event in Los Angeles before going online. Catch up with the existing seven episodes here
Comedy Store Podcast
Earlier this month Mitzi Shore, the matriarch of the Los Angeles Comedy Store where just about every big name in the American game got their start, died at the age of 87. Here people who've worked at the club past and present recall some of their anecdotes about the larger-than-life figure, Meanwhile, comic Ari Shaffir has dedicated the latest episode of his podcast Skeptic Tank to his reminiscences… which ended up spanning more than three and a half hours.
Doug Stanhope: No Place Like Home
Taped in 2016 in his hometown of Bisbee, Arizona, this special has provocative stand-up Doug Stanhope tackling an assortment of hard-hitting issues, from caring for the mentally-ill to Vietnam veterans to being locked up abroad. This special – which boasts Stanhope's pal Johnny Depp as executive producer was released on Amazon Prime this week here.
Jason Byrne: Special Eye
The second of the madcap Irish comedian's specials to hit Netflix in two weeks, this collection of typically insane audience interactions was filmed in Dublin in 2013. Watch here.
Published: 28 Apr 2018
Recent News
What do you think?