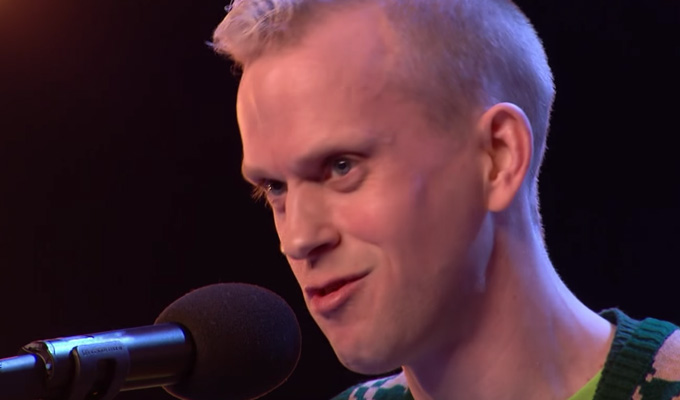 Robert White ribs Britain's Got Talent judges
Comic Robert White appeared on Britain's Got Talent last night – with a song full of insults for the judging panel.
The musical stand-up – who describes himself as 'the only gay, Aspergic, quarter-Welsh comic on the British comedy circuit', admitted he was 'nervous' to be performing the track.
The 41-year-old – who is also a primary school teacher – made a joke about his dyslexia, saying: 'I recently tried to book tickets for Rhianna. I booked tickets for RyanAir.'
He added that he was gay because his autism meant 'I can't think straight' .
Because he had to be PC for a primetime TV audience, he said: 'I've literally done a song about PCs. It's a song about computers. George Formby working in a computer shop… When I'm cleaning Microsoft Windows.
Lyrics included: 'David Walliams wanted to update his content reminder/He brought me a massive ring binder/But when I looked all the contacts were from Grinder.'
And 'Amanda Holden was the only one who's Instagram was on the mark/She said her outfits have so much spark/I said I'm just jealous I'll never dress like you/Cos I don't shop in Primark.'
In passing judgment, Walliams told White: "Robert I love you. You're a beautiful soul. Comedy flows from you like water.'
Cowell added: 'You're very unique, you're very quirky, very funny, very naughty, Robert, which we like!'
He scored four 'yeses' from the judges
Here's White's performance:
Published: 15 Apr 2018
What do you think?