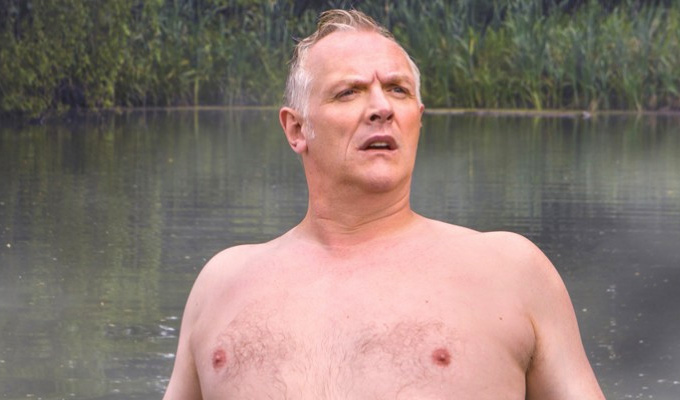 Behold his magnificence!
This week's comedy on demand.
Greg Davies: You Magnificent Beast
This week's Netflix stand-up special is Greg Davies's Chortle-Award winning show about his utterly insane parents, his own reprehensible behaviour and his failing middle-aged body – in short a winning collection of grossly inappropriate stories, brilliantly told. Here is our review of the live show, and you can watch it here.
Freddy Quinne: Quite The Catch
Rather than fund a trip to the Edinburgh Fringe, Lancashire comedian Freddy Quinne decided to stump up £3,000 to film an hour-long set at the Hot Water comedy club in Liverpool, already the setting for so many internet stand-up clips.
It was probably a wise move, for a club seems a more natural environment for 29-year-old Quinne's brank of cheeky, blokey comedy than a festival, even though he's previously appeared in a few line-up shows at the Fringe.
His hour-long set is based largely around the dating game, from dick pics to those who punching above their weight, from Don't Tell The Bride to a story about dating a woman who turned out to be transgender, which is not exactly politically correct His line 'At what point is rape justified?' in respect to buying her dinner four times and not having sex is certainly problematical.
The special is available as a paid-for iTunes album, or you can watch for free on YouTube below:
Dr. Strangelove or: How I Learned to Stop Worrying and Love the Bomb
The classic Stanley Kubrick/Peter Sellers satire about the insane escalation of nuclear tensions seems scarily relevant today… and it's just landed on Netflix here.
Pat Paulsen's Half a Comedy Hour
An obscure bit of American comedy history has just been released on Amazon Prime. Pat Paulsen was a collaborator with The Smothers Brothers, and in 1970 was given his own show, with writers including Steve Martin, after running a comedy campaign to become President… a stunt he would repeat five more times up to 1996, the year before he died at the age of 69.
His show, which ran for 13 episodes featured sketches and an eclectic range of guest stars, from Daffy Duck to Vice President Hubert Humphrey. Watch here.
Published: 14 Apr 2018
What do you think?