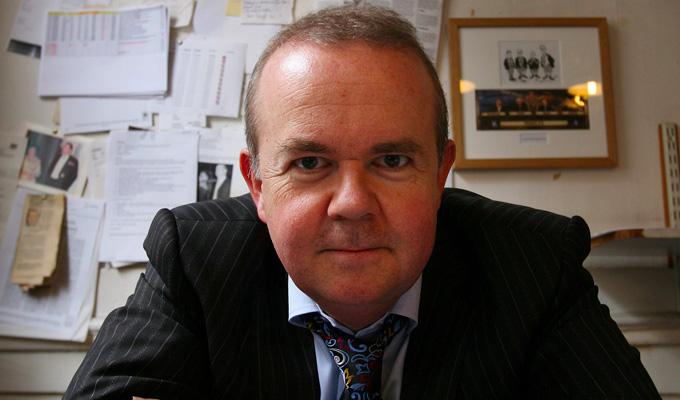 Ian Hislop pens freedom of speech play
Ian Hislop has written a play about freedom of speech.
The oft-sued Private Eye editor will tell the story of 19th Century satirist William Hone in Trial By Laughter.
Hone was accused of seditious libel against the government and the Prince Regent in 1817, having parodied them in a spoof of the Book Of Common Prayer. He faced three separate trials on three successive days at London's Guildhall as the Establishment tried to silence him and deport him to Australia.
'Basically, he'd been incredibly rude about the government and Prince Regent, they wanted to ship him off to the colonies and he defended himself at his own trial' Hislop told Chortle. 'They tried him for three days in a row and every night he was found innocent.
'By the end of the third trial there was a mob of 20,000 had got inside the Guildhall and were essentially threatening to riot. And he won again. It was a huge trial for free speech.
'He's another hero. He basically decided to make the jury laugh. And he wrote an account and it's very, very funny. Partly because it was so bent. They tried to rig the trial every single way to put him away. But the public were not having it.
'There were bits in it that were straight Monty Python. His basic thing was just to make the jury and everyone else laugh. And of course he's laughing and the judge says he's going to arrest the next person who laughs. And then someone laughs and he says "was it you?" And they go "no, no I wasn't laughing". And then someone laughs. And he tries to get them to arrest people for laughing. And it's all true.
'It's very uncontrollable. People will laugh at things you don't want them to. And for the authorities it's infuriating.'
Hislop co-wrote Trial By Laughter with his long-time writing partner Nick Newman, based on their 2016 Radio 4 drama of the same name. They also previously wrote the play The Wipers Times, based on the true story of two army officers who found a printing press during the First World War and published articles lampooning the fighting, which is due to go back on tour this autumn.
Trial By Laughter is directed by Hislop and Newman's regular collaborator Caroline Leslie and runs from September 20 to October 27 at the Watermill Theatre in Newbury, Berkshire.
Hislop provoked controversy in an interview with the Radio Times last week for saying fewer women have presented Have I Got News For You because they tend to be too modest to agree to the hosting job.
- by Jay Richardson
Published: 12 Apr 2018
Recent News
What do you think?