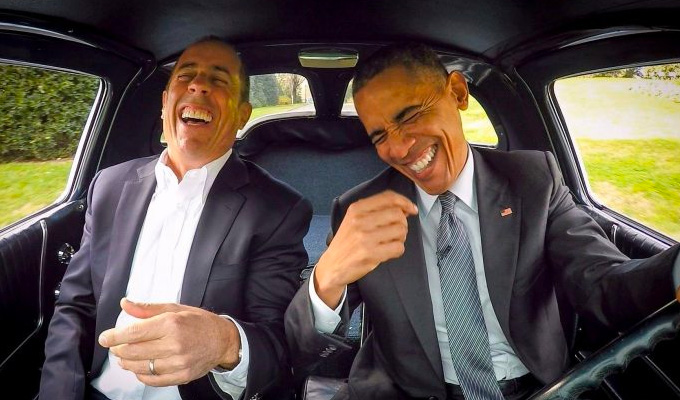 Comedians In Cars Getting Sued
It's an idea so simple that you think it couldn't be owned by anyone.
But Jerry Seinfeld's Comedians in Cars Getting Coffee is at the centre of a bitter legal battle about who came up with the idea.
Christian Charles, who directed the pilot in 2011, is claiming he is the true creator of the series, and has launched a lawsuit in New York.
But Seinfeld's lawyers have called on the case to be thrown out, in no uncertain terms. In their strongly-worded legal submission, they say that Charles's copyright claims are 'objectively meritless' and comprise 'inflammatory accusations' that are not even 'threadbare'.
Charles said the idea had its roots in the 2002 documentary Comedian, which he also directed, and included Seinfeld driving across country.
Charles said he pitched Seinfeld a show in 2002 called Two Stupid Guys In A Stupid Car Driving To A Stupid Town, which the comedian rejected. But Charles said that in 2011 Seinfeld contacted him about making a car-based talk show.
However, Seinfeld's attorneys say the comedian came up with the idea himself. And they concede the concept of 'comedians driving in a car to get coffee and engaging in comedic banter' is probably too simple to be copyrighted anyway.
Indeed, in the UK Red Dwarf star Robert Llewellyn had a very similar series caked Carpool in 2009, filmed on a dashboard GoPro as he chauffeured guests including Stephen Fry and Professor Brian Cox in his hybrid car.
When Seinfeld launched his show, Llewellyn said he got 'literally thousands of tweets from people going, "Jerry Seinfeld stole your show! Sue him! You'll be worth millions!"' But he never did.
US District Judge Alison Nathan of the Southern District of New York will be deciding on the fate of the latest lawsuit.
Published: 7 Apr 2018
What do you think?