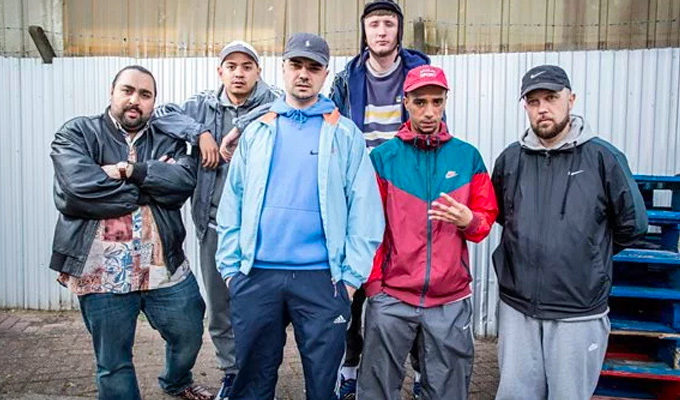 Fifth series for People Just Do Nothing
People Just Do Nothing is to return for a fifth series.
Production has resumed on the pirate radio sitcom, with executive producer Ash Atalla saying that the writing team has changed how they approach storylines.
Writer-performers Allan Mustafa and Steve Stamp have begun 'to think more about the shape of the series', looking at longer story arcs, he told a Bafta masterclass.
'The first series had been exclusively 'standalone episodes but I think we've become more narrative-driven as we've gone on and touched on drama as well at times,' he added.
'I think you have to think that stuff through, because if you want moments of pathos you need to work for them, and so we've thought about that.
'And the fifth series that we're doing at the moment, we were all in my office this morning with Jon [Petrie, the producer] and just talking through where we want to end the series and what we need to do to get there to make it mean something.'
Series four aired last autumn, with the final episode focusing on Grindah choosing between Kurupt FM's first daytime rave and his wedding to Miche.
Although much of the dialogue is improvised by the cast, Mustafa explained that writing each new series takes about seven months. Stamp suggested that the process had grown more straightforward now that they have a greater sense of each character's destiny.
'It starts off very broadly, you start talking about what you want to do with the characters, where they are at the moment' he said. 'For example now, it's kind of easier because everyone's slightly on a journey, so you know you're picking up from where we left off. But we'll just sit around and come up with loads of ideas for potential storylines, have lists of Miche storylines, Grindah storylines etc.'
People Just Do Nothing won best scripted comedy at last year's Bafta Awards and was nominated for its fifth Royal Television Society Award earlier this week.
The fifth series, made by Atalla's production company Roughcut TV, is expected to follow the third and fourth in being initially screened online on BBC Three, before airing later on BBC One.
Atalla has previously suggested that he would like to end the series with a movie, telling the Guardian in 2016 that 'there are different ways to structure a film these days it needn't be a huge cinema release; there's video on demand - some kind of feature length ending to the show feels like the right thing to do.'
The show's core cast, including Hugo Chegwin as DJ Beats and Asim Chaudhry as Chabuddy G, continue to perform live music festival sets as Kurupt FM, with summer dates at Field Day in London and Creamfields in Halton.
Meanwhile, Lily Brazier, who plays Miche, has landed her own girlband comedy Wannabe, airing on BBC Three later this month.
- by Jay Richardson
Published: 9 Mar 2018
What do you think?