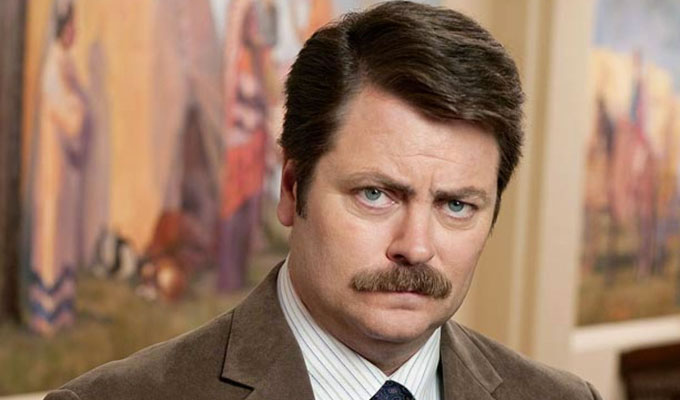 Nick Offerman joins Good Omens
Parks and Recreation star Nick Offerman has joined the cast of the TV adaptation of Neil Gaiman and Terry Pratchett's Good Omens.
The comedian – Ron Swanson in the NBC sitcom – will play the US Ambassador and father of the child Warlock in the six-part BBC Two series.
Gaiman, who is also showrunner on the supernatural comedy, said: 'There may not be anyone alive who can deadpan a line quite as well as Nick Offerman. He's a terrific performer, and has to say a lot of things in Good Omens that are humanly impossible to deliver with a straight face. Fortunately, Nick is not entirely human.'
Michael Sheen and David Tennant star as the angel and rare-book dealer Aziraphale, and the fast-living demon Crowley respectively.
Offerman said: 'If you had told me when I first read Good Omens in the early 1990s that I would one day visit South Africa to giggle with Neil Gaiman at laptop-screened footage of Dr. Who and David Frost dancing because I was assaying a role in the adaptation of said book, I would likely have offered to purchase some of whatever you must be smoking. But here I am, still giggling at the luck of it.'
The starry cast also includes Jack Whitehall, Miranda Richardson, Michael McKean, Jon Hamm and Anna Maxwell Martin.
The plot is that the world is set to end in a few days, with the armies of Good and Evil amassing – but the Antichrist has gone missing.
The show, which is also destined for Amazon Prime, is being made by the comedy team at BBC Studios, with Doctor Who director Douglas Mackinnon bringing it to the screen.
Published: 6 Mar 2018
Recent News
What do you think?