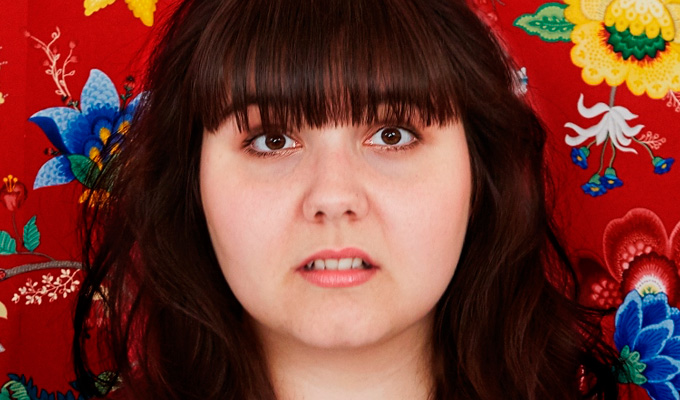 Sofie Hagen announces first book during 'fat-shaming' Twitter storm
Sofie Hagen is writing her first book, about body image.
The comic announced that she was writing Fat in a tweet accusing Cancer Research of fat-shaming after it launched a campaign against obesity.
The charity had tweeted a picture of a poster spelling out 'OBESITY' with some missing letters, asking people to guess the biggest cause of cancer after smoking.
Responding on Wednesday, Hagen wrote: 'Right, is anyone currently working on getting this piece of shit CancerResearchUK advert removed from everywhere? Is there something I can sign? How the fucking fuck is this okay?'
The 2015 Edinburgh Comedy Award best newcomer also accused Lush of fat-shaming following a now-deleted post by the soap chain. Her posts attracted thousands of responses in both support and criticism, including many instances of personal abuse.
Those attacks prompted Hagen, currently performing in her native Denmark with Mark Watson, to respond today: 'I have been informed that I am getting a lot of abusive anti-fatness tweets so to you, I just want to say: I will reply to you all. But in the form of a book I am writing about why it's okay to be fat which will be released in Spring 2019.
'What I am saying is: While you are spewing your dim-witted hateful opinions in 280 characters, I am getting paid to write approximately 80.000 words about why you are wrong.'
What I am saying is: While you are spewing your dim-witted hateful opinions in 280 characters, I am getting paid to write approximately 80.000 words about why you are wrong.

— Sofie Hagen (@SofieHagen) March 1, 2018
Fat, which will be published by 4th Estate in spring 2019, aims to bust dangerous societal misconceptions about what constitutes a "good" body and demand redefinition of beauty standards.
Calling out advertising and social media posts endorsing weight loss, the book aims to celebrate the fat body and claims to be an agenda-setting call to arms to eradicate fat-phobia.
Hagen will share her experiences of the 'fat positivity' movement, recounting conversations with fat liberation champions and describing how she conquered a negative relationship with her own body, providing practical tips for readers to do the same.
Hagen said: 'I was eight years old the first time it was decided that I should go on a diet, launching almost 20 years of self-loathing, eating disorders and depression. I have gone from someone struggling with being chubby to someone proud of being fat, and from feeling sad because of how my body looks to feeling furious that there are people who judge me because of how my body looks.
'I am so incredibly honoured that 4th Estate is willing to give me this chance, because I genuinely believe that if I had read this book when I was a teenager, I would have had a much better life from much earlier on, so that is what I am doing: I am writing this book for my teenage self.'
Sarah Thickett, assistant editor at 4th Estate, added: 'I've been a huge admirer of Sofie's for a long time: her work as a comedian and podcaster is so original and intelligent, never afraid to shy away from complex issues, but also devastatingly funny and feminist.
'Fat will examine the overwhelmingly toxic consequences of body shaming, but also how to find self-acceptance outside of the ideals it promotes. I'm delighted that readers will now have a chance to enjoy Sofie's incredibly frank, funny and courageous debut, which introduces such an important new voice into this timely and urgent debate.'
Responding to Hagen's tweet, Professor Linda Bauld, Cancer Research UK's prevention expert, told the Daily Telegraph: 'The aim of the charity's campaign is to raise awareness of the fact that obesity is the biggest preventable cause of cancer after smoking.
'This is not about fat shaming. It is based on scientific evidence and designed to give important information to the public. Only 15 per cent of people are aware that obesity is a cause of cancer. Cancer Research UK has a duty to put that message in the public domain.'
Hagen has rebutted that explanation, tweeting: 'BMI has been debunked DECADES ago. It's not a valid way of measuring anything.
'On the contrary, DIETING has been proved TIME AND TIME again to be one of the worst thing[s] you can do to your body. Your campaign is so damaging and fat-shaming and I really hope it gets taken down.'
4th Estate has previously published books by Stewart Lee, Spike Milligan, David Baddiel, David Mitchell, Mark Steel and Charlie Brooker.
- by Jay Richardson
Published: 1 Mar 2018
What do you think?