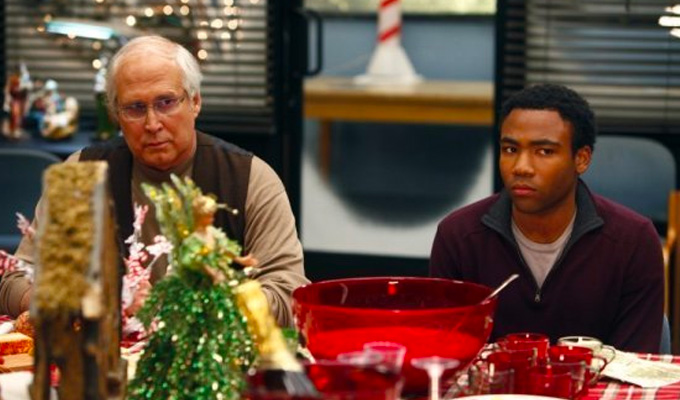 Chevy Chase 'made racist jibes' at Donald Glover
Chevy Chase made racist jokes to Donald Glover during the filming of US comedy series Community, show creator Dan Harmon has revealed.
In an interview with the New Yorker, Harmon said the jibes were indented to put his co-star off his game, and were fuelled by jealousy.
While Glover – who went on to create Atlanta – said he wasn't rattled by the insults, suggesting they were the outbursts of a man whose star was on the decline.
'I just saw Chevy as fighting time,' he told the magazine. 'A true artist has to be OK with his reign being over. I can't help him if he's thrashing in the water.'
For his part, Chase said: 'I am saddened to hear that Donald perceived me in that light.'
Typical of the comments he reportedly made to try to put Glover off were: 'People think you're funnier because you're black"
According to Harmon, 'Chevy was the first to realise how immensely gifted Donald was, and the way he expressed his jealousy was to try to throw Donald off.
'I remember apologising to Donald after a particularly rough night of Chevy's non-PC. verbiage, and Donald said, "I don't even worry about it".'
The comic already has a reputation for being a jerk to work with, especially during his time on Saturday Night Live. Many of his more difficult moments are detailed here.
In 2012, it was reported that Chase apologised to cast and crew after dropping the n-word on the set of Community.
Published: 27 Feb 2018
What do you think?