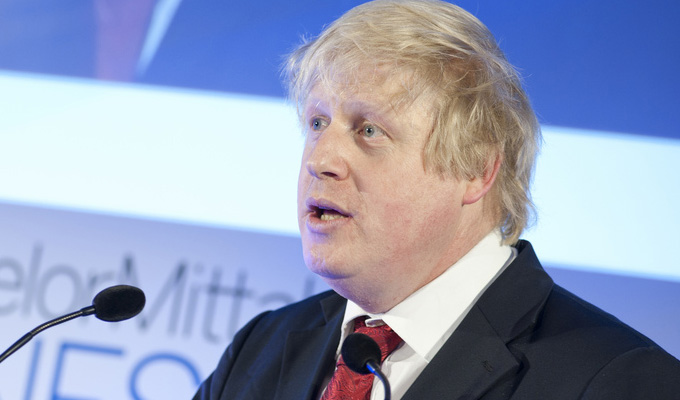 Left-wing comics 'are not voices of ethical resistance'
The idea of left-wing comedians being a powerful voice of ethical resistance is largely a myth.
That's according to academic James Bassett, who claims the general liberal consensus among comedians only reinforces the 'neoliberal' status-quo.
And he suggested ironically offensive comedy gave a 'legitimacy' to the extremists of the so-called alt-right.
'There's a question as to whether the right-wing has been served by the comedy of Ricky Gervais, Little Britain and Sacha Baron Cohen,' he said during an event at the Leicester Comedy Festival yesterday. 'The ironic mocking of political correctness has given legitimacy to the likes of Jeremy Clarkson, Katie Hopkins and the alt-right.'
Brassett, who is a reader in international political economy at the University of Warwick, said: 'George Orwell's belief that "every joke is a tiny revolution", with comedians punching up on behalf of the little guy – this vision is quite powerful. It enforces the idea that all comedians are on the left and those on the right are not that funny.
'But this is a rose-tinted view of the left being an ethical resistance, whereas comedians have made peace with a sort of neoliberal politics - and some have made vast wealth in tax-free bank accounts from it.'
He also said that the Brexit vote showed that 'the politics of resistance may not be as imagined' since '99.99 per cent of comedians' came out for the Remain camp, wanting to preserve the status quo.
Brassett also pointed to other 'problematic elements' in left-wing comedy: 'Not least because of its androcentric, ethnocentric viewpoints dominated by white, upper-middle-class men who went to Oxbridge.'
He also suggested politicians on the right had successfully adopted some of the same techniques as comedians. Citing Boris Johnson and Nigel Farage, he said: 'Their jokes may not be great or clever but they get to speak to their audience with irrelevance, piss-taking and saying "fuck off" to Europe.'
His comments came at an academic panel event entitled Is That Funny?, about the role of humour in politics, organised by the Centre for Comedy Studies Research.
Professor Delia Chiaro, from the University of Bologna, addressed the question: 'Can you be funny in politics and still be taken seriously?'
She cited the case of Beppe Grillo, the comedian who set up Italy's anti-establishment Five Star Movement – but who has taken a back seat now the party is a credible political force.
She said: 'The kind of humour Beppe Grillo engaged in was ranting in the style of George Carlin, swearing a bit, telling people to fuck off all the time.
'But in order to be a comedian, you have to be in opposition. You have to want to change something, to be on the outside, radical and to be populist. When you are in the mainstream you cannot be funny any more.'
And she divided political figures who use comedy into three types: trickster, buffoons and jesters.
'As well as tricksters like Grillo you have the buffoons like Boris Johnson and Nigel Farage, and the jesters who are always on the side of the king, the people in charge.'
She said the Foreign Secretary 'uses humour to appear sincere' – but it had mixed results, especially when his jokes fall flat, as some did during a major Brexit speech last week.
While Prof Chiaro spoke of the tradition of 'carnival before seriousness', Dr Kate Fox, who is based at the University of Leed, spoke of times in history when 'carnival is the nom and laughter is higher in the hierarchy than seriousness'
She gave the example of the first 60 years of the early Renaissance and Jon Gnarr, the absurdist comedian who became major of Reykjavik following the banking crisis.

And where Prof Chiaro argued that comedians who entered politics largely had to stop joking, Dr Dox cited Gnarr as 'a good example of a politician who hasn't had to abandon his humour'.
Published: 19 Feb 2018
Recent News
What do you think?