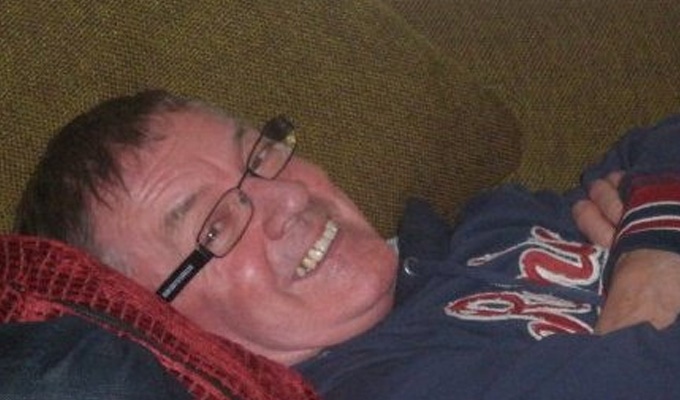 RIP Kim Kinnie, the Svengali of alternative comedy
Kim Kinnie, the long-serving gatekeeper of the Comedy Store and a 'spiritual godfather' to many stand-ups in the early days of alternative comedy, has died in Scotland in the early hours of this morning.
Kinnie stated out as a choreographer and stage manager of the Gargoyle Club, the Soho strip club where The Comedy Store began in 1979.
Kinnie admitted he wasn't an immediate convert to the new form of entertainment, confessing he first thought: 'What is this shit?' But he eventually changed his mind and came to love the comedians booked the comedians for the club.
In his book about the history of the Comedy Store, writer William Cook also called Kinnie the venue's 'unofficial artistic director'. Although he'd often greet comics with a cheery 'piss off', every one of them was determined to impress the diminutive Scotsman standing by the sound desk with a large glass of red in his hand. The biggest accolade a stand-up could receive was Kinnie asking them to get their diary out for some Comedy Store bookings.
Speaking to Cook, Patrick Marber, the comedian turned playwright recalled: 'There are very few moments in a life where you feel that sort of elation of acceptance and, for me, when Kim phoned up and gave me a booking was one. He just seemed like a wise old bird who'd seen it all, done it all, new it all and you just wanted him to be.'
He would also often have a quiet word with comedians, giving them tips on their act. Phill Jupitus recalled: 'He'd tell you you'd done wrong and that was terrible', and Simon Bligh added: 'I've seen him be a right bastard.'
But he won the respect of comics because he so clearly cared about their work, which meant they would take the sometimes harsh criticism. He would also be an enthusiastic supporter of comedians he thought were special and has been credited with seeing early talent in the likes of Jack Dee, Paul Merton, Julian Clary and Mike Myers - with whom he shared a flat at the 1985 Edinburgh Fringe.
In his autobiography, Merton wrote: '[Kinnie] was a great encourager of talent, providing he liked you. Lots of comedians, myself included, benefitted from his advice'
Kinnie told Cook: 'My job was to care about them, [the comedians]. That's all I did'.
Kinnie left the Comedy Store in the 1990s, after it moved to its current Piccadilly Circus location, to become a producer for STV in Glasgow. Some say his departure coincided with the venue losing its political edge and becoming a more mainstream club with emphasis on more straightforward observation and gag-based comedy.
For Kinnie he produced the likes of The Funny Farm – which gave Fred MacAulay a break – and Win, Lose Or Draw – once making ten episodes of the Pictionary-style show in one day - the documentary about alternative comedy called Only Joking and a a one-off called Scotland's Always Had Talent.
Tributes were paid on social media today following the news of his death.
Kevin Day tweeted: 'Comedy has lost a tiny giant. Spiritual godfather to many comedians, actual godfather to one, Kim Kinnie has left the building. RIP dear man.'
Kinnie was the godfather of Day's son Ed, who now performs comedy under the name Ed Night.
Comedian and writer Dave Cohen, who was an early member of the Comedy Store Players, said: 'To say Kim Kinnie booked the Comedy Store doesn't tell the half of it. He cared for all of us who worked there even when things weren't working out. Especially when things weren't working out.'
Current Comedy Store Player Richard Vranche said: 'Kim Kinnie booked, advised and encouraged the new generation of comics @comedystoreuk in the 80s and 90s. RIP. Will raise a glass of red.'
Ad Fred MacAulay wrote: 'Awfully sad to hear that Kim Kinnie has died. Always full of advice. And often encouragement. He was instrumental in this fledgling comedian's career.'
Published: 11 Feb 2018
What do you think?