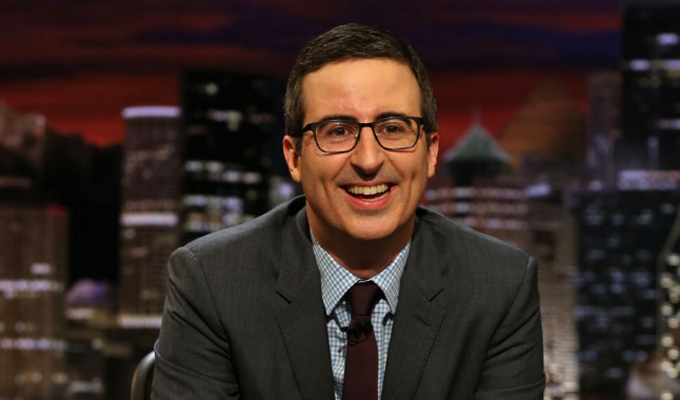 Revealed: Why John Oliver had to go to America to find success
Channel 4 once turned down John Oliver as host of a satirical show because they didn't like his accent.
Ironically, the British broadcaster ruled him out when they were looking to ape the success of The Daily Show in America.
Just months after the knockback, Jon Stewart's show signed him up as their British correspondent – where he proved such a success he went on to host his own weekly HBO show, Last Week Tonight.
Dave Gorman said it was 'such a ridiculous missed opportunity' for Channel 4 when he told the story on the new episode of Richard Herring's Leicester Square Theatre Podcast, explaining: 'This illustrates something about British and American.'
Gorman had been asked to help put together a new topical show, as he had previously been script editor on the broadcaster's previous attempt at the format, the much-maligned 11 O'Clock Show, and because he hosted the occasional segment for The Daily Show.
He turned down the approach from an independent production house, but told them: 'My top tip would be to hire John Oliver. I think he's brilliant, he's the only working comic on the circuit at the moment who's got the gravitas and who is actually a satirist – actually doing proper satire rather than pointing out that particular politicians are ugly or fat or whatever…'
According to Gorman, the producers replied: 'Yeah, we told Channel 4 that and they're not interested. They said they didn't like his voice.'
Gorman clarified it was his accent rather than his comic voice they meant.
A couple of months later, Gorman was working at The Daily Show and when a producer asked him for recommendations for their new British correspondent, and he again suggested Oliver.
This time the reply was: 'So good to hear that because that's who we've hired!'
Gorman mused: 'So the Americans who do the show that Channel 4 were trying to copy had looked at everyone in England and gone, "He's the man." And when Channel 4 were trying to copy them, they couldn't even copy that!
'They could have had him do that show over here, had they the appetite for it, but someone at Channel 4 decided he had an Estuary accent they weren't happy with.'
Oliver joined the Daily Show in July 2006, with Ricky Gervais also recommending him for the job.
Gorman also explained the mistakes UK broadcasters often make in trying to create satirical shows in the mould of American hits.
He said: 'What they wanted when they were doing the 11 O'Clock Show was young people who would do what they were told>
'I don't think you can have satire with young people who do what they're told I think you need to have old people who have an opinion are who are going to go, "no we are not fucking doing that, we are doing this because it matters; they have to have a bit of that in them to be a proper satirist.'
During the course of the podcast interview – recorded before Christmas but released today – Gorman and Herring discuss why Dave stepped down as team captain on the Sky Arts panel show What The Dickens?; Gorman's righteous take-down of the working practices of showbiz reporter Neil Sean, and his appearances on TV quiz shows.
Published: 31 Jan 2018
Recent News
What do you think?