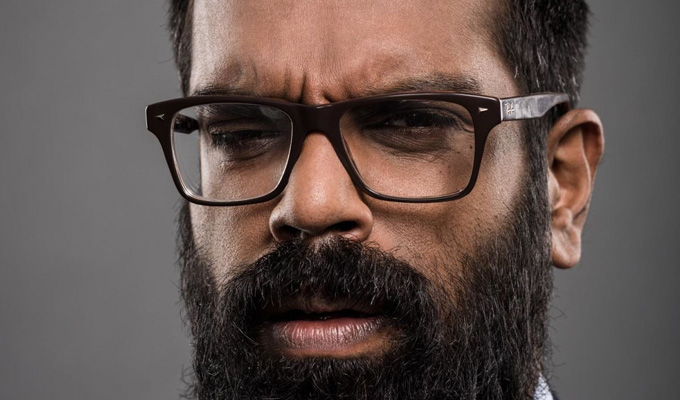 All rise for Judge Romesh
Romesh Ranganathan is to turn judge in a comedy twist on courtroom programmes.
The comic will rule over real-life disputes in Judge Romesh, supported by a cast of top comedians, before meting out comic judgement.
Ten half-hour episodes have been commissioned for the Dave channel.
Ranganathan said: 'Whenever I have watched shows like Judge Judy or Judge Rinder, I have always thought these people would be better served by someone with fewer legal qualifications and less interest.
'It is for that reason that I am delighted to make that dream a reality. I am thrilled to be able to help as many people as I can with their crappy problems.
Joe McVey, who commissioned the show for UKTV added: 'Judge Romesh is the much-needed overhaul the criminal justice system has been waiting for. Where the court system has failed to resolve tawdry domestic disputes Romesh Ranganathan is exactly the arbiter of morality we've been yearning for, for like literally yonks.'
Judge Romesh is to be produced by Hungry Bear Media, and is expected to air later this year. The format was originally piloted in 2016 with Jimmy Carr in the judge's seat, as Chortle reported at the time.
Ranganathan's has also been filming a documentary about trying to crack America, Breaking Romesh, which culminated in a sparsely attended gig at the 5,900-seater Greek Theatre in Los Angeles last month.
He will also star in the semi-autobiographical sitcom, The Reluctant Landlord, on Sky One later this year as well as the travelogue Romesh's Really Rough Guide for BBC Two, in which he visits some of the world's most dangerous places.
Ranganathan is also currently fronting a series of TV ads for Twitter
Judge Romesh is a number of programmes UKTV has announced today, including Jon Richardson: Ultimate Worrier, in which the fretful comic assesses how genuine his fears are.
Published: 23 Jan 2018
What do you think?