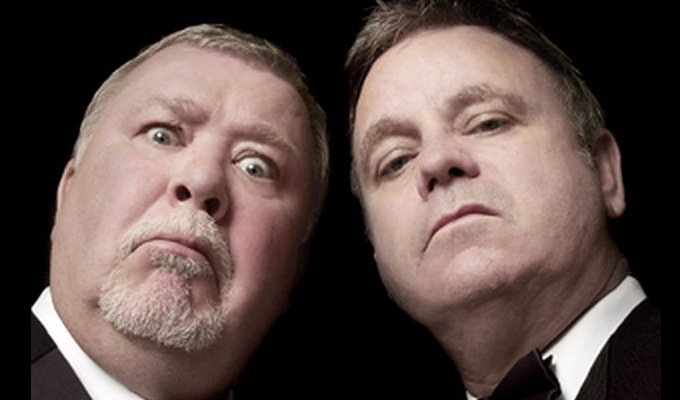 Eighties stars flock to Benidorm
Hale And Pace, The Chuckle Brothers, and Bobby Ball will all be making guest appearances in the new series of Benidorm.
The ITV sitcom will also feature Eighties pop stars Carol Decker from T'Pau, Tony Hadley from Spandau Ballet and Holly Johnson from Frankie Goes to Hollywood.
Gareth Hale and Norman Pace will play undercover detectives called Dennis and Nigel, investigating Tim Healy's drag queen character Les/Lesley, who returns to the show full-time.
Healey had to leave the last series midway through filming when he was struck with a mystery illness so severe he was in intensive care for a month.
ITV is also marking the comedy's decade on air with a documentary entitled Benidorm: Ten Years On Holiday.
The show's creator and writer Derren Litten will talk about how the show came about while visiting the show's real-life locations. Past and present cast will talk about their roles, alongside bloopers and behind-the-scenes footage of the upcoming tenth series being filmed.
All the Garvey family return for the one-off special – Steve Pemberton, Siobhan Finneran, Sheila Reid, Ollie Stokes and Hannah Hobley – to talk about their time on the show.
When Benidorm returns next month, Shane Richie will be back for four episodes reprising his role as lively entertainer Sammy Valentino and Only Fools And Horses star John Challis becomes a series regular with his character Monty Staines.
Other guest stars include Nigel Havers, Mark Heap and Claire Sweeney.
Litten said: 'When I wrote the first script of Benidorm I had no idea it would change my life so dramatically over the next ten years.
'I am so grateful to our fans and to ITV for giving Benidorm the best possible home we could hope for. Here's to the next 10 years!'
Published: 16 Jan 2018
What do you think?