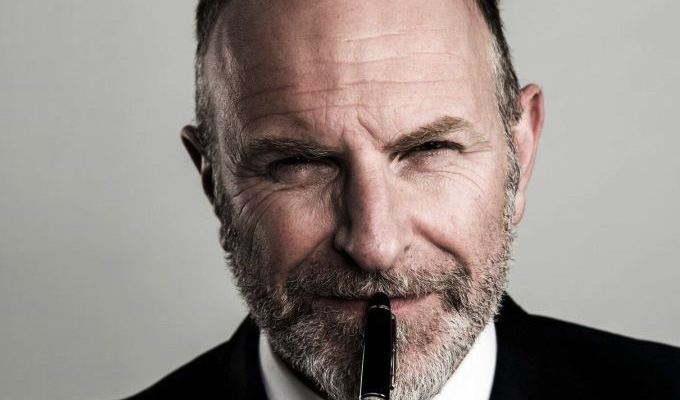 It's the economy, stupid
The week's comedy on TV and radio.
Monday January 15
ROAST BATTLE: The no-holds-barred comedians clash will take over Comedy Central UK for five nights this week, with a new show at 10pm daily and two on Friday. The new series pitches friend against friend, husband against wife and father against son as they exchange insults, with Jimmy Carr, Katherine Ryan and Russell Brand passing judgement.
Tonight's opener features Tom Allen v Suzi Ruffell and Phil Wang v Ed Gamble. Then it's Joe Lycett v Nick Helm and Daniel Sloss v Desiree Burch; Joel Dommett v Iain Stirling and Fin Taylor v Paul Chowdhry; Larry Dean v Sofie Hagen and Alex Brooker v Matt Forde; Bobby Mair v Harriet Kemsley and Dane Baptiste v Tez Ilyas; and finally Alex Edelman v Jayde Adams and Mark Steel v Elliot Steel. Here's Mark Steel roasting his son Elliot:

Tuesday January 16
SIMON EVANS GOES TO MARKET: The comic's series making economics accessible returns, with the first episode looking at the business model of social media, and how the services we enjoy for 'free' come with cost, as well as changing the way we live. That concept of what's 'free' recurs in future episodes, from whether multinationals operate tax-free, billions being given away for free by a new breed of philanthro-capitalists, and the free-at-point-of-use NHS. Radio 4, 6.30pm
Wednesday January 17
RHYS JAMES IS… A new stand-up series in which the comedian examines different aspects of himself - with the help of his mum and dad. Radio 4, 11.15pm
JIM CARREY'S BIRTHDAY: Sky Cinema Comedy marks the comic A-lister#s 56th birthday with a marathon of some of his films,starting at 4.25pm with Me, Myself & Irene, then Fun with Dick and Jane at 6.25pm, Liar Liar at 8pm, Dumb & Dumber and 9.35pm and The Cable Guy at 11.30pm.
Friday January 19
IDIOCRACY: It's the 2006 film that's foresaw the rise of Donald Trump, possibly. Directed by Mike Judge, whose credits span from Beavis and Butt-Head to Silicon Valley, it tells of a future America overrun by corporate interests and populated only by morons, who elected a porn star wrestler as their President. Film 4, 9pm.
Published: 14 Jan 2018
What do you think?