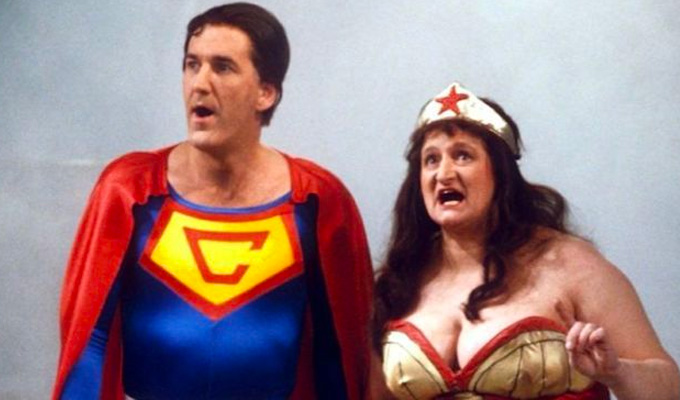 Goodbye Blunderwoman
Bella Emberg, the comic actress who found fame as Russ Abbot's sidekick, has died at the age of 80.
Abbot said she was 'a genuinely funny woman, but most of all a woman of immense warmth and generosity.
He adde: 'She was not only a great sport but a huge comedy talent. I count myself very lucky to have worked alongside her. She really was a one-off.'
Emberg appeared on The Benny Hill Show, The Lily Savage Show and Doctor Who in her long career, but she will probably be best remembered for her character Blunder Woman to Abbot's hapless superhero Cooperman in the 1980s.
She appeared in the all-star cast of the Mel Brooks film, History of the World: Part I, while more latterly she worked with Matt Luca on his wordless show Pompidou.
Pianist Bobby Crush said it was 'such sad news,' adding: 'We've been chums since appearing together in a Summer show with Russ Abbot at the Princess Theatre, Torquay in 1981. A genuinely nice woman and despite her fierce on-stage characterisations, a truly gentle soul.'
Emberg had just finished filming a new Sky One comedy, In The Long Run, created by Idris Elba. It is due to be released later this year.
Here she is performing a unique version of I Got You Babe with Abbot:
Published: 13 Jan 2018
Recent News
What do you think?