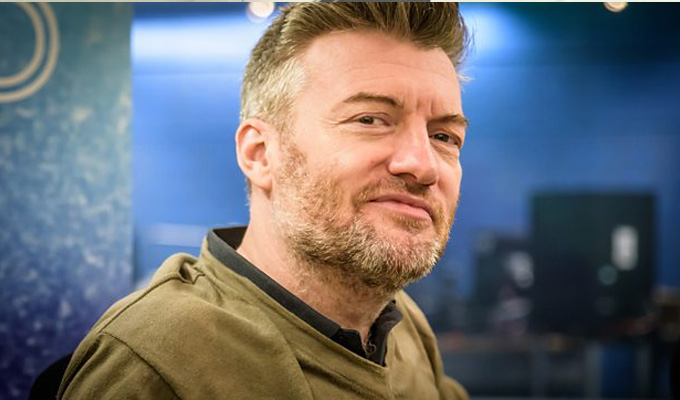 'I'm not a horrible, sarcastic monster'
Charlie Brooker says he's 'goofier and more awkward' than the 'horrible, deadpan, sarcastic monster' he projects on TV.
The satirist and Black Mirror creator said he adopts a comic persona for his Wipe TV shows that doesn't reflect his true personality.
Speaking to Kirsty Young on Radio 4's Desert Island Discs this morning, he said he played up to the role of a 'world-weary cynic who will almost say anything and is bitterly angry and will say incredibly dismissive things and is very hard to dismiss'.
But he said he said that in reality he is 'far less certain of my opinions'.
He said being a father has changed him, and that children gave him the greatest pleasure, admitting that was 'such a cliche'.
When his wife Konnie Huq, the former Blue Peter presenter, was pregnant with their first son Covey in 2012, he feared he would not be able to make an emotional connection with him, pondering, 'what if I feel nothing?'
'I was always a bit emotionally distant,' he admitted later in the programme, adding that having a family had changed that.
He said he often had a 'terrible sense of foreboding' about the world, which stemmed back from childhood when he saw a drama about nuclear war which haunted him. He then couldn't understand 'why people bothered going to work, and feeding ducks, and getting on buses, and weren't just weeping and screaming'.
Brooker added: 'I wouldn't allow myself have a pet now because I know it will die and I immediately go there and I can't bear it. That mindset is probably true of a lot of comedy fans, comedy writers, horror fans – these are all ways of exploring that sensitivity.
'Certainly, I guess laughing at or about it – having a dark sense of humour – is definitely a defence mechanism, classically gallows humour,
'If I come up with a particularly sick joke and somebody goes, "I don't know how your mind works", I sort of think, "Well, why doesn't yours work that way? Because that's the bloody world, mate."'
Brooker also said that he was a workaholic and that he often dreamed of taking an early retirement or a five-year break, but said that in the rare moments he didn't have a packed schedule, he panicked. 'I don't understand what my purpose is if I'm not working,' he said,
His s song choices included Radiohead's Present Tense, which he said helps him get to sleep at night and cure his long-term insomnia; the bleak Florence's Sad Song from the Magic Roundabout film Dougal and the Blue Cat; and Anyone Who Knows What Love Is by Irma Thomas, which has been used in several Black Mirror episodes.
If he could have only one song, he chose the 'wilfully ridiculous' New Potatoes by Denim, saying 'it reminds me of my kids and there is something darkly amusing about being stranded there and the only form of music that you have is that'.
Brooker said his luxury item would be a Nintendo Switch console as it was 'time sponge' and that his book would be Galapagos by Kurt Vonnegut because it's about people stuck on a desert island.
Charlie Brooker's Desert Island Discs is now available on iPlayer.
Published: 7 Jan 2018
Recent News
What do you think?