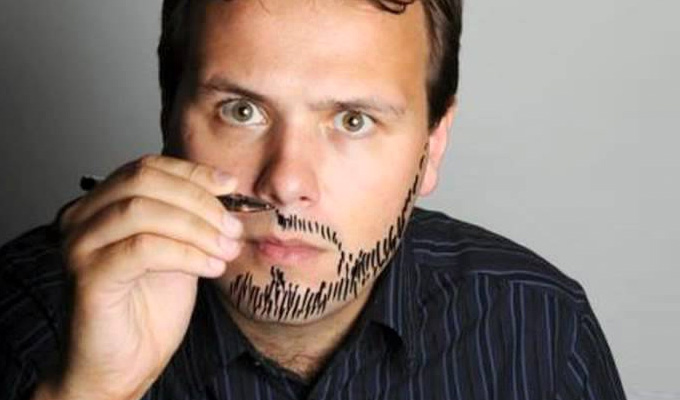 John Finnemore up for radio writing award
Harry Enfield, Sarah Kendall and Marcus Brigstocke have all been named finalists in prestigious radio award.
They are in the running for BBC Audio Drama Awards, which aim to 'recognise the cultural significance, range and originality of audio drama'.
Brigstocke has made the list for best original one-off drama for his first ever radio play, The Red, about an alcoholic who was bequeathed a collection of fine wine by his father. The script was based on the comedian's own experience of addiction and recovery.
Shortlists were originally announced in November, but these have now been whittled down to three finalists in each category.
And it has also been announced today that comedy writer John Finnemore, pictured, has been shortlisted for the £3,000 Tinniswood Award for the best original drama script, which will also be announced at the ceremony.
He was nominated for the Penguin Diplomacy episode of his Double Acts series on Radio 4, which starred Martin Clunes and Tom Goodman-Hill.
Judges said: 'This is a perfectly formed piece of comic dramatic writing.
'While the play functions as a gentle satire on, and reductio ad absurdum of the aspirations of empire and colonialism, it never loses sight of the humanity of those minions who must service such a grasping cause.
'Much of the humour of the piece derives from reading the personal sentiments between the lines of the official declarations. What emerges is the warmth of human friendship in contrast to the coldest of colonial and climatic environments.'
Also up for the same award are David Eldridge for his Radio 4 drama Jenny Lomas, about stalking and identity theft, and Sarah Woods for her Radio 4 show Borderland, inspired by migration issues.
Another of John Finnemore's Double Acts could also help sitcom stalwart Julia McKenzie win a separate BBC Audio Drama Award.
Her role in the Mercy Dash story has earned her a top three place for best actress, alongside Christine Bottomley for the Radio 3 prison drama Solitary and Anastasia Hille for her role in the radio adaptation of Eugene O'Neill's Long Day's Journey into Night
Meanwhile, the shows up for best scripted comedy are:
Ladhood by Liam Williams, producer Joseph Nunnery
The Penny Dreadfuls: Le Carré On Spying by David Reed, producer Julia McKenzie,
Sarah Kendall: Australian Trilogy: A Day in October, producer Carl Cooper
And for best sketch show:
The Absolutely Radio Show by Pete Baikie, Morwenna Banks, Moray Hunter, Gordon Kennedy & John Sparkes; producers Gus Beattie and Gordon Kennedy
Harry and Paul Present: The Gentlemen's Club by Harry Enfield & Paul Whitehouse, producer Sam Bryant
It's Jocelyn by Jocelyn Jee Esien, Ed Amsden, Liam Beirn, Sarah Campbell, Tom Coles and Laura Major, producer Suzy Grant
Inside Donald Trump, the spoof biographical series made by Andy Hamilton, has been nominated for best online or podcast drama alongside a six-minute 'pod play' Can't Get You Out Of My Head and PC David Rathband: A Digital Tragedy.
Winners will be announced a ceremony in the Radio Theatre at BBC Broadcasting House, London on January 28.
Published: 4 Jan 2018
What do you think?