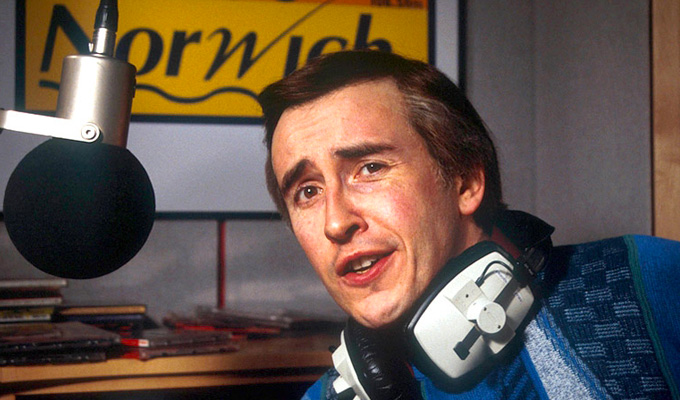 How I'm Alan Partridge was almost killed at birth
Alan Partridge co-creator Patrick Marber almost put the kibosh on the sitcom that propelled the character to comedy royalty.
The writer thought that I'm Alan Partridge was such a bad idea that he told his fellow co-creators to go back to the drawing board and start again.
But luckily they ignored his protest and pressed ahead with the show, which went on to win two Bafta awards and win an army of fans.
Marber's misgivings about placing Steve Coogan's character in a sitcom following the success of the spoof chat show Knowing Me, Knowing You are revealed in the documentary Why, When, Where, How And Whom? on BBC Two tonight
And Armando Iannucci tells of how the BBC were cool on the idea of a Partridge sitcom, too.
He said: 'I remember when we went to the BBC and said. "We want to do an Alan Partridge sitcom, we don't want to do another series of Knowing Me, Knowing You" and the man at the BBC just went, "Oh God…"'
By this stage in the late 1990s, Marber had become a serious playwright with his second show, Closer, opening at the National Theatre, and Iannucci admitted: 'We were putting off showing the script to Patrick because we might have gone completely down the wrong route.'
Marber explained: 'When Armando and Steve showed me the first work-in-progress script they had – charmingly seeking my approval – I didn't give it.
'On the page it seemed to me to be too obviously comedic and a bit of a sitcom, to be honest. It felt a bit jokey to me.'
Iannucci added: 'Patrick said, "You've lost the DNA of Alan, you've got to go back to square one."'
Coogan said Marber's comments knocked them for six. 'I remember him saying that and me breaking out into a cold sweat.
'Before he said all this stuff we thought it was good. I think it was Armando or Peter [Baynham, another of the writers] who said, "I think he's wrong. Let's just ignore him and carry on doing what we're doing.""
In tonight's documentary, Marber admitted his fears were unfounded. 'I should have had the sense to imagine what it would actually be like when it was shot by Armando and performed by Steve,' he conceded.
Coogan did confess to one misstep in I'm Alan Partridge, suggesting they should have done a second series in the hotel before moving Partridge into the mobile home next to the house he was having built.
But he said the 'fear of getting lazy and repeating ourselves', lead to the new premise.
The team behind the show also gave some hints as to what Partridge's firs BBC series in 15 years might bring in 2018.
Coogan said: 'It's interesting bringing Alan back to the BBC, which is where he was born as a concept. The BBC is what Alan always wanted to be and to make the narrative work in a logical sense, Alan is a creature of the BBC.'
Rob Gibbons, who started writing for the character on Mid-Morning Matters, explained: 'The new show is Alan getting an unexpected and probably undeserved second chance.'
'While he's going to be excited about the new chance, he's also going to be nervous because he knows how badly he screwed things up last time. So the question is can he sink his claws into this role and hold on to it. You've got to doubt it.'
'As to what might come next, I think Alan thinks he's got an opera in him. I don't think he necessarily knows what an opera is…'
• Alan Partridge: Why, When, Where, How And Whom? is on BBC Two at 9pm tonight.
Published: 27 Dec 2017
What do you think?