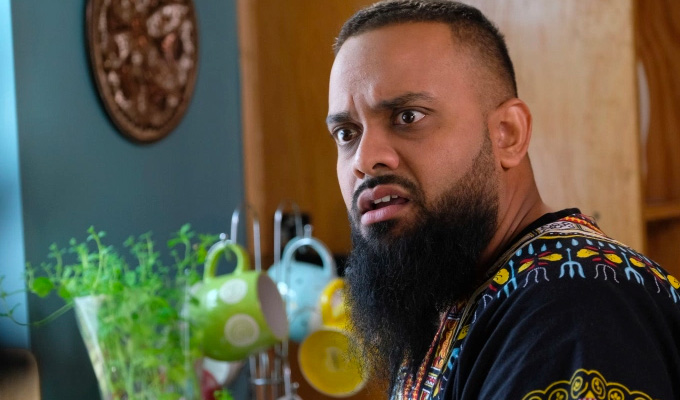 Meet the Man Like Mobeen
The week's best comedy on demand.
Man Like Mobeen
Guz Khan's four-part comedy has been launched on BBC Three's iPlayer channel, revolving around his working class life as an ethnic minority in Birmingham, addressing issues including arranged marriage, the alt-right and racial profiling. Watch all four episodes here
Secret Santa
Holly Burn, Jordan Brookes, Alice Etches and Dan Kiss star in this 'festive' short film, set in the offices of  Pining For You, a company selling fake Christmas trees.
There the cast play a simple office game of Secret Santa that gets a bit out of hand…
What Makes You Tic?
A one-off, pilot  presented by Lewis Nickell, a teenage internet sensation and vlogger from Bangor in Northern Ireland, is billed as the first talk show to be fronted by someone with Tourette's Syndrome.
This 15-minute show features Lewis, his brother Stephen and girlfriend Megan, embarking on a  road-trip quest for star guest interviews to see if he can become the world's first talk-show host with the condition, and features  The Vamps, and Girls Aloud star  Nadine Coyle. The show was released on iPlayer on Wednesday - watch it here.
Big Turtle Dump
So it sounds like amphibian excrement, but that's what indie comedy producers Turtle Canyon comedy call their annual upload of shorts to YouTube. James Acaster, Ed Gamble, Michael Legge and Suzi Ruffell are among the comedians involved in the new shows – and we've a full guide to them here.
Russell Howard: Recalibrate
We reviewed the comic's first Netflix special earlier in the week here is what we had to say about it.
Published: 23 Dec 2017
Recent News
What do you think?