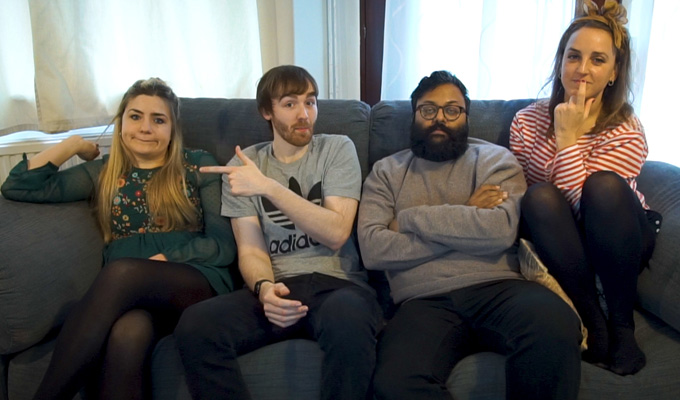 Comics get their Christmas shorts on
Comedy production house Turtle Canyon is to release a new batch of films online next week.
James Acaster, Ed Gamble, Michael Legge and Suzi Ruffell are among the comedians involved in the new shows.
He is this year's slate, which will be released on YouTube on December 19:
Just Puddings
With Ed Gamble and James Acaster
Another episode in this occasional series, in which Acaster samples desserts on behalf of Gamble, who is a Type 1 diabetic so cannot eat them himself. Here they go to Chin Chin Labs, where Acaster eats nitrogen ice cream, then describes it.
The Reaction Crew
With Ian Smith, Lucy Pearman, Sunil Patel and Harriet Kemsley, all pictured above
Seven episodes of this Gogglebox-inspired show, about a group of friends who make videos of themselves reacting to online videos.
The Ghost Police
With Eleanor Morton, Michael Legge, Lou Sanders
The result of a public call-out for ideas, this stars Eleanor Morton as a ghost detective who drags along comedians to haunted caves and hotels.
The Dates
With Eliot J. Fallows, Sophie Duker, Joe Sutherland, Jacob Hawley
Another short film from the same public commissioning brief, this stars Eliot J. Fallows, who attempts to answer the most regular question a bisexual gets asked: do you treat men and women differently on a date?
PanettoneGate
With Annie McGrath, Alice Orr-Ewing, Phil Ellis, Jack Barry
A festive short about the Italian loaf – and whether trying to give it to a homeless person the most misjudged Christmas gift ever.
The crew filmed this in North London last weekend, and brought a bag full of fake snow to create a festive look… although in the end Mother Nature obliged with the real thing, and the prop went unused. It's also the second Christmas short Turtle Canyon founder Stuart Laws directed this year, after James Acaster's Sky short.
Murder Town
With Luke Kempner, Suzi Ruffell, Jessica Fostekew, Evelyn Mok
A look at a new detective drama, where all the characters have strangely specific traits.
Spent The Night In…
With Daniel Cook, Rose Johnson
Cook is Tommy WiseAss (Not to be confused with The Room creator Tommy Wiseau) a weird YouTube star challenged to spend the night in unusual circumstances. But this could be his most demanding viral video yet…
Here's a trailer for the full season, which will be released on Turtle Canyon's YouTube channel
Published: 14 Dec 2017
What do you think?