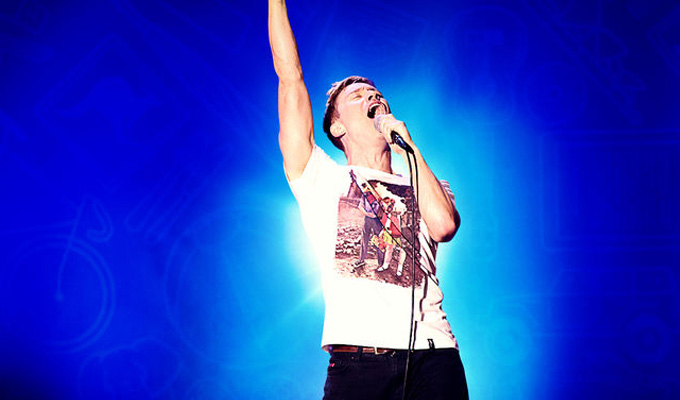 Russell Howard: Recalibrate
Note: This review is from 2017
Russell Howard doesn't take long to introduce himself to potential new fans across the globe with his first Netflix special. After the briskest of thank-yous he kicks off with: 'It's nice to be happy because the world's done for.'
And that's pretty much the message of the next 69 minutes, as it has been for his whole career. While the news gets increasingly depressing all we can do is 'giggle at the madness of the world' and find small moments of joy in the everyday.
His West Country family provide plenty of examples, from his dumb, no-filter brother blurting out the most inappropriate things, part born of mischief, part of naivety, to his grandfather's tender displays of emotion to an embarrassed grandmother. The mix of sentiment and silliness runs deep through the Howard family, and comes to define this show.
Whenever the material teeters towards mawkishness or a trite feelgood message – which is relatively frequently – Howard always undercuts it with a daft image or some sniggering sexual material, not always sophisticated, but done with flair. And ultimately, his overwhelmingly positive approach is both sincere and potent, for who wouldn't want to be on the side of joyfulness.
The title of the show is a plea for us to recalibrate what's important, and not focus on the irrelevant. Nostalgia for the simpler life as a child rekindles that spirit, when imagination and enthusiasm could run free, letting the young Howard living in the moment with no concern about building the perfect social media profile.
The comic's pleas for a united humanity only go so far, however, and he's quite happy to be intolerant of the intolerant. He has no time for the anger of miserable folk 'seeking things to be annoyed by' that gave us Brexit and Donald Trump. The small-minded and the small-handed get it in the neck, to the delight of the crowd, booing mere mention of the American President. 'He's a wanker,' one heckler contributes, the perfect British response. As is the vandalism meted out to Trump's Scottish golf course, described here.
Howard makes a few nods to the international audience, referring to the time he was in an 'elevator' or explaining that Gary Glitter is a 'British paedophile'; but Norman Tebbit's bigotry is sadly universal, whether you know who the Tory peer is or not. And it's very easily mocked, an opportunity Howard seizes with both hands.
As part of his Round The World tour of this show, Howard went into America's heart of intolerance, the Deep South, where he admits his message wasn't greeted with the same universal agreement he usually expects.
That would have made a very interesting special, far from this performance filmed in Brighton during Pride – the ideal rainbow crowd for Howard's merry optimism giving him a warm response to match his irresistible, uplifting agenda.
• Russell Howard: Recalibrate was released on Netflix yesterday. Watch it here.
Review date: 20 Dec 2017
Reviewed by:
Recent Reviews
What do you think?