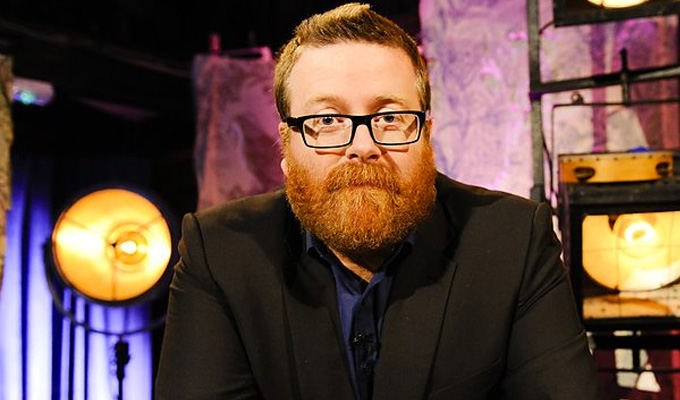 End-of-year TV special for Frankie Boyle
Frankie Boyle is making an end-of-the-year special of his New World Order show for BBC Two.
The news comes days after Charlie Brooker announced that he was not making his traditional annual Wipe show for the first time in seven years, saying he was too busy.
Boyle said: 'I'm so delighted to be doing this show as that little period between Christmas and New Year is something that I've always wanted to ruin for everybody.'
New World Order is made by Zeppotron – the company which was set up by Brooker and others and which made Wipe.
Ruth Phillips, joint managing director of the production company, said: 'From the Brexit fall-out to Weinstein, Trump to Kim Jong Un, 2017 certainly isn't going to leave Frankie short of things to chew over in his inimitable, provocative, scathingly funny way.'
Frankie Boyle's 2017 New World Order will air at 10pm on Friday December 29 and will be available on BBC iPlayer following transmission.
Boyle made four New World Order programmes for BBC Two this summer, following the success of his similar Autopsy shows on iPlayer. Over the series he was joined by Sara Pascoe and Katherine Ryan as well as other guests including Miles Jupp, Nish Kumar and Romesh Ranganathan.
The first episode attracted 713,000 viewers to BBC Two – but it was one of the most popular programmes on iPlayer with almost 550,000 requests for that episode alone.
Producers say of the new year special: 'The show features Frankie at his brilliant, satirical best doing stand-up, review, discussion and audience interaction - all in an attempt to make sense of the last 12 months.'
It is being recorded in front of a studio audience in London on December 19. Free tickets to the taping are available here.
Published: 5 Dec 2017
What do you think?