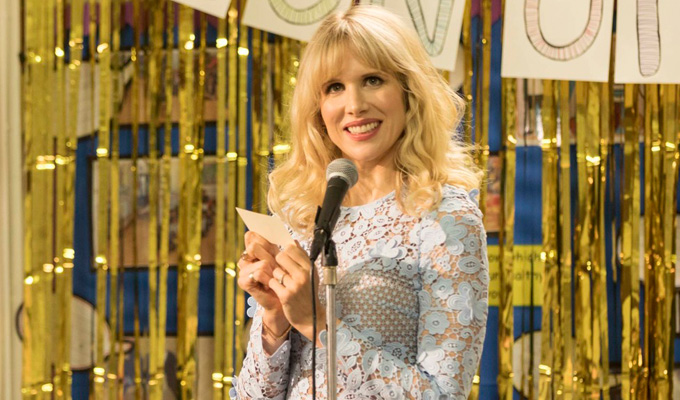 Continuing adventures in Motherland
The best of the week's comedy on TV and radio.
Monday November 13
DON'T SAY IT, BRING IT: Jason Byrne hosts this new gameshow, based on a Spanish format, in which he grabs willing contestants in the street and asks them questions. But they canot say the answer; instead they have to dash off and bring the relevant item back from wherever they can find it. The show is being stripped across the week at the same time daily. Dave, 7pm
I'M SORRY I HAVEN'T A CLUE: The 'antidote to panel games' returns for an incredible 68th series. Regulars Graeme Garden, Tim Brooke-Taylor and Barry Cryer are joined by Jan Ravens, with Jack Dee as chairman and Colin Sell at the piano.Radio 4, 6.30pm
Tuesday November 14
MOTHERLAND: This rightly acclaimed sitcom continues, with Anna Maxwell-Martin's ever-harassed Julia getting heavily involved in a school fundraiser - against her better judgement - in order to impress a former colleague. BBC Two, 10pm
Wednesday November 15
LENNY HENRY'S ROGUES GALLERY: The comedian returns for a second series of short comic character profiles with the tale of Stan Clayton, who has been a butcher all his life and hopes his sons will follow in his footsteps. But when one of them brings home a cherry red Stratocaster guitar one day, it seems that Stan's hopes are dashed. Radio 4, 11.15pm
CHRIS RAMSEY'S STAND-UP CENTRAL: After his feature-length film Murder On The Blackpool Express aired on Gold last night, Jason Cook performs stand-up on his old pal Ramsey's show, alongside Ellie Taylor. Comedy Central, 10pm
Thursday 16 November
Friday November 17
MY LIFE AS A… Lapsed classics student Andy Zaltzman spends a week living by the teachings of ancient schools of philosophy - starting by being stoic.Radio 4, 11am
THE WILSONS SAVE THE WORLD: A new sitcom for Radio 4 in which Marcus Brigstocke and Kerry Godliman play parents of two teenage daughters, have resolved to live a greener, more ethical life. In episode one, they fret about how to go on holiday with the least impact on the planet. Keen environmentalist Brigstocke wrote the show with Sarah Morgan.Radio 4, 11.30am
Published: 12 Nov 2017
What do you think?