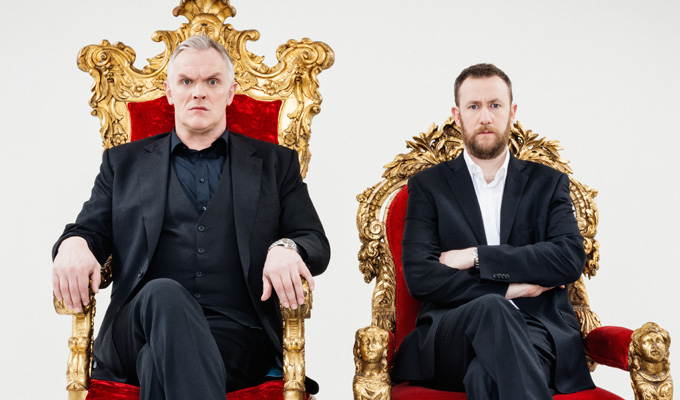 Why Taskmaster was a hard sell...
It is now one of the biggest hits on digital TV - but Alex Horne has revealed Taskmaster was a hard sell to broadcasters, because it broke the conventions of panel shows.
A key sticking point was the fact that the same five contestants would come back each week over the course of the series.
'That was breaking the mould,' he said. 'People didn't think viewers would tune in the next week to see the same comedians, so we had to persuade them it was more like a sitcom than the panel show. Because actually, people got to know each contestant.'
Horne and programme-makers Avalon hawked the format around several broadcasters before it landed at Dave. And even though the channel brought into the idea, deputy director of commissioning Hilary Rosen admitted she still had some reservations.
'On the first series, the one thing we said was that you have to shoot it in a way that we can change the order of the episodes. If we think show three is the best, we want to show that first.
'But about two0thirds of the way through we all understood that if we were going to make it again, we were going to make it as a soap… that this was a show you record and transmit in the same order.
'We didn't have that confidence to start with. We were very brave to commission the show, but it was a classic broadcaster thing that we had to put the best episode first.'
She added: 'No one else commissioned it because they couldn't quite see it. It felt risky, because obviously you've got to commission seven episodes because it's got a narrative arc. it was a big leap of faith. So I can imagine why other channels said: "I like it but…".'
The structure also meant it was hard to shoot a formal pilot, the producers and broadcaster explained at a Royal Television Society 'masterclass' held in the London Transport Museum last night.
Series producer Andy Cartwright said: 'That would have been quite difficult as it's quite a torturous thing to make – in a positive way – because it's not a panel show, it's more an event; a big smash up of all the people coming together at that one time relating what they've done in the weird house.'
As is often mentioned, Taskmaster began as a competition for 20 of Horne's comedian friends over the course of a year, with the result being announced at the Edinburgh Fringe.
Challenges included 'deposit some money in Horne's account'. Mark Watson, who would go on to appear in series five of the TV show, put in nearly £200, Horne revealed. 'No one else put it more than £1'. The next dare was to 'find me a hedgehog' - won by Tim Key within eight minutes.
He staged the competition again the following year, this time with ten comedians, and filmed the result on small cameras to hawk around TV stations.
Horne revealed: 'We pitched it to Channel 4 with ten people and they were all Channel 4 names and that felt wrong. We felt quite we were sacrificing too much of the original idea.'
And he played to the industry audience some of a 'bad, homemade PowerPoint presentation' which he prepared for the broadcaster, suggesting names like Kirsty Allsopp as contestants, as well as comics such as Sarah Millican and Micky Flanagan. At the time the show was called 'The Taskmaster', but Greg Davies was already pencilled in as the host.
'People have asked me why I didn't get to host my own show,' Horne said. 'But that was never the plan. That role is so important, but Greg is so funny and people respect him, so he is perfect. My role as sidekick is to be sneaky and you can run it from the sides in a really funny way.
'Greg and I didn't really work before together and we found the chemistry by chance. He makes it look so easy what he does.'
However, after pitching the original idea with no success, they tried again with five contestants, with Horne explaining: 'We were obsessed with this honeycomb formation with them sitting in some balcony and the lights would go on and off….
'Like a shit Blockbusters,' Cartwright offered.
Rosen added: 'When they pitched it to Dave, they had shopped it around quite a lot, I think it's fair to say. That's relevant because many ideas get shopped around. The thing about a good idea is that it will have its moment. It's about the landscape your commissioning an idea into.
Turning to Horne, she said: ''The PowerPoint is charming and funny but no one's commissioning on the strength of your PowerPoint.'
But she said the fact Taskmaster had been tried at Edinburgh helped commissioners get an idea for the sort of tasks that would be involved and the format of the finished show.
Horne said that initially 'I wanted to do all these things in the comedians' actual houses. I didn't realise how impractical that would be both in terms of cost – and their lives.'
But although he was talked out of that idea, he believes that him being a comedian and producer helped convince fellow stand-ups to take part.
'Not many shows have comedians producing, which is quite odd,' he added. 'I think because I'm a comic they trusted me not be to exposing them and to stay on the right side of wacky.'
He revealed that 'pretty crucial' to getting the first series off the ground was signing up Frank Skinner, after which the other comedians followed suit.
Horne also said that over the five series 'I have got better at coming up with tasks.
'In the first series there was one there was "high-five a 55-year-old" which was the only one that involved the public directly and the only one that's been really awkward because people didn't want to get involved. It was a different sort of show it was a hidden camera show. So I think we've got better at thinking of ideas that are more Taskmaster-y.'
One notion that he had for the first series that only eventually surfaced on the fifth series was 'give Alex a special cuddle'.
'For the first series, we thought "that's ridiculous, no one's going to do that on telly". But by the fifth series in we had more confidence in the comedians' brains. In the first series, we gave them more measurable tasks – most things were timed. This was a wide open task.'
Horne described coming up with tasks as like writing jokes but with 'a setup without the punchline'.
'It's the best way of writing a joke,' he added. 'You just write an opening line and then get a better comedian to write the punchline.'
Last night's event was part of the RTS Futures programme, which aims to help those just starting out in television.
Published: 9 Nov 2017