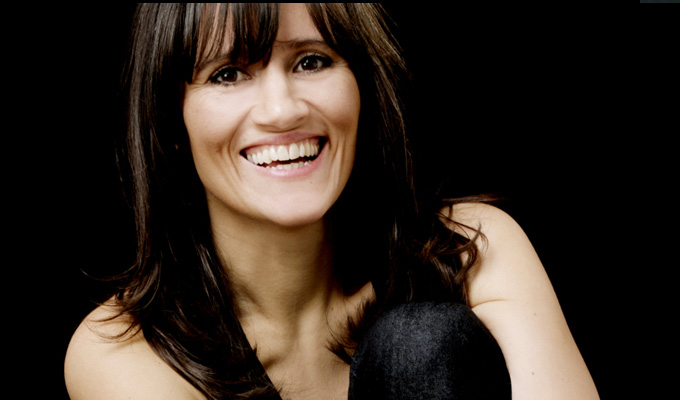 Nina tries to get the monkey off her back
This week's best comedy shows on demand.
Nina Conti: In Therapy
Following on from her stage show of the same name, ventriloquist Nina Conti explores the psychological effects of putting her honest, uncensored and filthiest thoughts into the mouth of her monkey by seeking the aid of a therapist. With him, she explores whether she should part company with Monkey and have a more conventional relationship with her psyche.
In actual fact the psychiatrist is improviser Adam Megiddo, who created Showstopper The Improvised Musical.
She's put out five episodes over the past week – watch them all here.
Live From The BBC
Previously available on iPlayer in a shortened format, this series of hour-long stand-up specials featuring some of the best up-and-coming comedians working in the UK is now available on Netflix. Up in the first series are former Edinburgh shows from Nish Kumar, Alex Edelman, James Acaster, Felicity Ward, Sofie Hagen and Dane Baptiste. Watch here
The Confessional
This seven-episode online series has been shot in 3D, 360-degree virtual reality…. though you have to wonder why. It's a talking head in a confessional box – not much to look at if you spin your viewing angle around.
More interesting than the gimmick is the content as comics including Trevor Noah, Judd Apatow, Jim Norton and Natasha Leggero share secret stories.
The series was filmed during the Just For Laughs comedy festival in Montreal earlier this year.
The Comedian's Comedian: Sean Hughes
Following the Irish stand-up's death this week at the tragically early age of 52, you can hear him speak about his approach to this work in this in-depth interview. As podcast host Stuart Goldsmith says, Hughes was 'a thoughtful, reflective performer, with a passion for self-expressive and profound comedy.' Listen here, featuring conversations with the likes of Micky Flanagan, Mark Thomas, Romesh Ranganathan and many more
Patton Oswalt: Annihilation
We've already reviewed this emotionally hard-hitting stand-up special, but it's worth another mention given the boldness of its content, about how the comedian coped – or didn't – following the sudden unexpected death of his wife. Watch here
Published: 21 Oct 2017
What do you think?