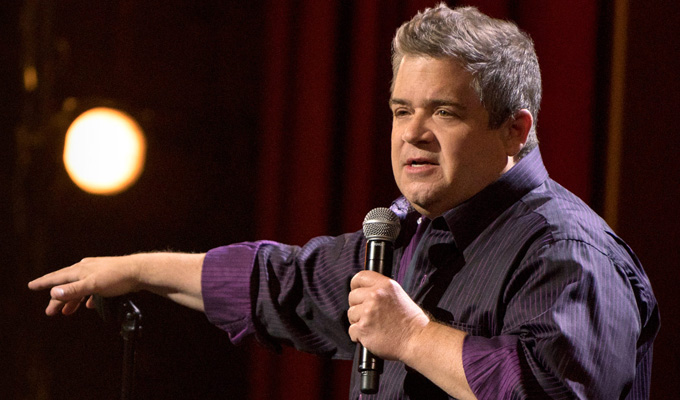 Patton Oswalt: Annihilation
One cannot imagine what it took for Patton Oswalt to get back on stage and try to make people laugh after the most desperately horrible experience of his life.
On April 22 last year, he found his wife, the true crime writer Michelle McNamara, dead in their marital bed, entirely unexpectedly, at the age of 46.
'It was the second worst day of my life,' he recalls. 'The worst of my life was the day after, when I had to tell my daughter.'
And when did he say this heartbreakingly sad line? In the middle of a comedy show.
For in his new stand-up special, Annihilation, Oswalt embarks on the seemingly impossible task of making jokes as he relives the still-raw tragedy. And with astonishing skill, he pulls it off, showing honesty, vulnerability and an accomplished comic's instincts to find humour, even of the gallows variety, in the most unexpected places.
It's surely some catharsis to speak about this emotional gut-punch on stage. A tentative step back towards the normal life that he won't ever quite be able to return to; a kick in the nuts to the grief that would have him wallow at home.
And there is surely satisfaction that he can create art from her life. He closes with a long and dirty routine about movie pitches that she loved, but he could never quite get to work. He still doesn't, really – it feels a bit clunky and forced – but knowing her love for it, elevates it. For Michelle's spirit is always present in the show, filmed in her home town of Chicago.
Not that she would believe in spirits, for despite Oswalt's previous belief that there must be some order to the cosmos, her rationalism saw the universe as chaos. The phrase that she'd always take umbrage at was the platitude, 'Everything happens for a reason.' No it doesn't. They'd have philosophical debates on the subject, but then, as Oswalt says in the most bittersweet, tragically funny line of the show: 'She won the argument in the shittiest way possible.' Her death.
Oswalt himself is riled at well-wishers blithely wishing him 'strength on my healing journey', which only serves to make him feel inadequate when he doesn't feel like he's healing. A 'numb slog', is how he prefers to describe it. Grief is nothing like his beloved pop culture led him to believe, either. Loss doesn't turn you into Batman, but a confused, broken man, comfort-eating through the tears.
But stand-up is Oswalt's superpower, the ability to turn sadness into laugher. He has the audience in shocked sympathy one moment, laughing in relief the next. His portrayal of the voice-of-gloom Polish woman he and his young daughter encounter is an accomplished act-out of absurdity in the face of adversity.
Like Richard Pryor on his attempted self-immolation, Tig Notaro on her breast cancer, Hannah Gadsby on the personal pain of homophobia, Oswalt is showing how stand-up can deal with complex, troubling emotions with maturity – and still get the laughs.
Annihilation doesn't start with this powerful material, but in what seems like a more workaday way, complaining about Donald Trump as 'a racist scrotum dipped in Cheeto dust' and how exhausting it is for a comedian to keep up with the tide of nonsense that spews from his tiny mouth and tinier brain. Oswalt has a fine turn of phrase here, delivered with his trademark weary exasperation, but the outlook is familiar.
More technical skills are on display in a fine piece of storytelling about a fight he witnessed, before he embarks on an extended piece of crowd work, which is unusual to see in a glossily-filmed special, though typical of many a club night.
However, it becomes apparent these have their place. The audience interaction is a sorbet to prepare for the strong material, in both content and quality, that follows as he addresses his grief. And the chaos of Trump's presidency and the misery and depression it causes in the pit of his stomach chimes with the powerlessness and disorientation Oswalt feels as a widower.
There's another subtle artfulness in the bookends. Director Bobcat Goldthwait starts with a panning shot of the vivid lights of Chicago's Atheneaum Theatre, shining like a beacon with the promise of what's inside, shot with a comic-book aesthetic that evokes the Batman material.
After the stand-up, we return to the exterior, But now it's daytime and Oswald suddenly appears vulnerable and alone in a big city sprawling out into the distance. No longer in the reassuring bubble of the gig where he can can largely control his destiny, the world looks more intimidating. It's a poignant shot.
The only armour he has are his wife's words, which become a catchphrase for the show, and a watchword we could all follow. 'It's chaos, be kind'.
• Patton Oswalt: Annihilation is out now on Netflix.
Review date: 20 Oct 2017
Reviewed by: Steve Bennett
Recent Reviews
What do you think?