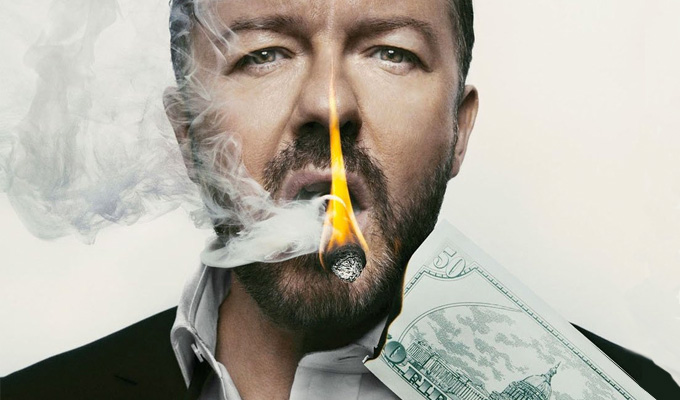 Ricky Gervais becomes highest paid British radio presenter
Ricky Gervais has signed a new deal which makes him the highest paid UK presenter on radio anywhere in the world.
He is to make a one-hour show for the with US satellite broadcaster SiriusXM, which will also be available as an iTunes podcast and on YouTube.
Gervais, who launched his entertainment career at London-based radio station XFM, said: 'I started out in radio, and Sirius made me an offer I couldn't refuse to return.
'With 32 million subscribers, editorial control, my own playlist and absolute freedom of speech, it's the perfect platform for me, and hopefully the listener too.'
The show, Ricky Gervais Is Deadly Sirius, will premiere at 4pm UK time next Tuesday, October 24.
Details of the exact size of his deal have not been revealed, but it would have to be substantial. Radio 2 breakfast host Chris Evans receives around £2.2million a year from the BBC.
Scott Greenstein, president of SiriusXM, said: 'Ricky Gervais is undoubtedly one of the most uniquely talented comedians in the game.
'Whether he's starring in a beloved television show, delivering raucous stand-up before a crowd of 20,000, or skewering celebrities at an awards show, the bottom line is that Ricky is a compelling performer whose legion of fans is only growing.
'We're ecstatic that he's bringing those many talents to SiriusXM, where he'll tackle some of life's big mysteries, while he charms and enlightens our more than 32 million subscribers nationwide.'
The new show will feature Gervais talking about serious topics with guests including Richard Dawkins and Noel Gallagher, promising 'thought-provoking discussions about the topics he feels the most passionate about, namely music, science, art, and ethics.'
Gervais released a pilot episode, featuring comic Mike Birbiglia as a guest, earlier this month:
Sirius subscribers in the States will be able to hear the show on Comedy Greats channel 94.
Published: 18 Oct 2017
Recent News
What do you think?