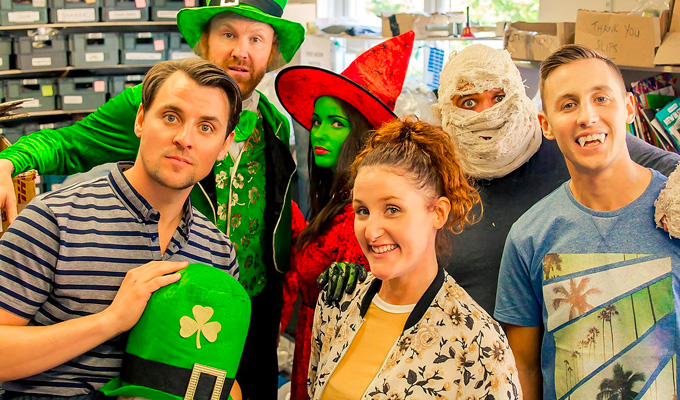 The scary six
The BBC has today released six comedy-horror shorts on iPlayer, in time for Halloween.
Their move follows the success of the horror shorts regualarly released by Sky Arts, with a new batch out next week.
The six BBC films have come from new Northern Ireland comedy writers, as part of a scheme to encourage fresh talent – with the corporation's Writersroom putting out an open call for
The six Fright Shorts are:
• The Candy Gran, written by Stephen Large, starring Stella McCusker, Michael Stranney and Aimee Richardson tells the tale of two teenage 'trick or treaters' who get more than they bargained for when they knock on the door of an old lady.
• Derek and The Evil Halloween Pigeon, written by Martha Barnett, starring: Gerard McCabe and Tara Lynne O'Neill, sees straight-laced Derek battle the Evil Halloween Pigeon and his unhinged flatmate to make it to his date on time.
• The Grandmummy Returns, written by Peter Gray, starring: Michael Liebmann, Gerard McCabe and Roma Tomelty, explores how Paul and best-friend Dennis cope when tragedy strikes.
• The Visit, written by Michael McCullough, starring: Dan Gordon, Chris Patrick Simpson, Julia Dearden and Eleanor Tiernan, follows Death on her frustrating day at the office and strange visit to the Donnelly's for Halloween.
• The Worst Halloween Ever, written by Mary Flanigan, starring Louise Parker, Sophie Doran, Julie Lamberton, Ruairi Woods, Rosie Barry, Colan Kelly, Odhran McNulty and Lucy McConnell, tells the tale of Emma the socially awkward witch, who plants a curse on her two flatmates throwing the Halloween party from hell.
• Costume Drama, written by Dave Kinghan, starring: Peter Campion, Bronagh Waugh, Karen Hassan, David Elliott, Shane Todd and Jason Byrne, sees two fancy dress shop employees accosted by a vampire, witch and mummy – however they learn their spooky visitors may not be the stereotypical monsters they appear.
All six shorts have been script-edited by the League of Gentlemen's Jeremy Dyson and directed by George Kane.
Keith Martin, executive producer of BBC Writersroom says: 'Fright Shorts is a brilliant example of the previously undiscovered talent that BBC Writersroom has unearthed…six fantastically spooky comedy-shorts proving even when writing for the undead, indigenous Northern Irish scripted comedy is alive and well.'
Chris Jones, the founder of production company Nice One Productions, added: 'I'm delighted that Fright Shorts is our very first new Northern Ireland comedy commission and hope comedy-horror fans all over the UK will enjoy binge-watching the series.
'With six sparky and distinctive scripts, Fright Shorts is a proper Halloween treat, bursting to life with such a funny cast, a visionary director and the hardest-working crew in Northern Ireland.'
Published: 13 Oct 2017