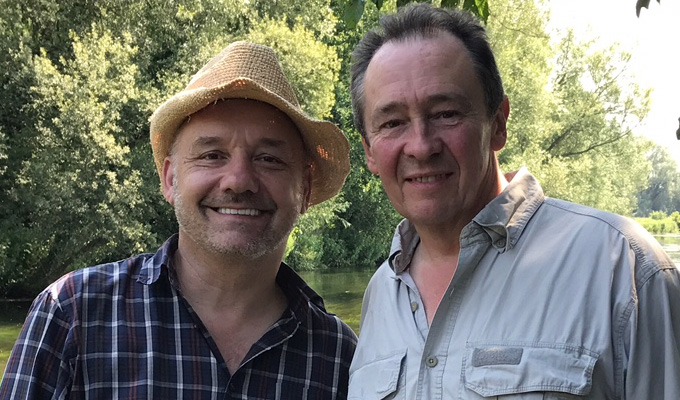 Fishing for funnies
Paul Whitehouse and Bob Mortimer are to front a new BBC Two series in which they go fishing together.
In the show, experienced angler Whitehouse suggests his friend take up the hobby to help recover from his triple heart bypass he had in 2015.
Whitehouse has also suffered serious heart problems and has had stents inserted into his arteries to help the blood flow.
He said: 'Before Bob Mortimer and I die of heart disease, we're going fishing all around the country. I've sold it to him by saying fishing is long periods of boredom punctuated by short, sharp periods of incredibly intense boredom. As a Middlesbrough fan, he lapped it up.'
Mortimer added: 'Paul is a lifelong friend and the chance to have one last adventure together before we snuff it was irresistible. He is an experienced angler and I haven't fished since I was a teenager. As a teacher, I expect him to be brutal.'
Six half-hour episodes of the show, provisionally titled Paul and Bob Go Fishing have been commissioned from from Owl Power, the production company they have just set up together
Lisa Clark, who produced all the Reeves and Mortimer shows as well as briefly looking after Top Gear with Chris Evans will be executive producer.
She said: 'This authentic series is as much an insight into the hearts (literally) of two of the UK's best loved comics as it is about capturing the serenity and beauty of one of the most popular pastimes in the UK.
'Their recent experiences will see them reflect with searing honesty on life's big topics. It promises to be revealing, emotional and highly amusing.'
According to the blurb for the show: 'Across the half-hour episodes they'll dissect life, death and comedy. Paul will be in charge of the fishing while Bob is in charge of the accommodation and cooking heart-healthy food. From recipes, regrets, relationships and rituals; to childhood, comedy and the countryside, the pair will discuss everything alongside the ever-present shadows of showbiz and mortality.'
David Brindley, head of popular factual programmes at the BBC, commissioned the show with BBCTwo controller Patrick Holland. He said: "Frankly, it's a joy to be working with two of the country's finest comedians. I'm delighted Paul and Bob have allowed us to follow this very intimate fishing expedition and eavesdrop on their frank, moving, and of course, entertaining musings.'
There is no indication yet as to when the show will air.
Published: 5 Oct 2017
What do you think?