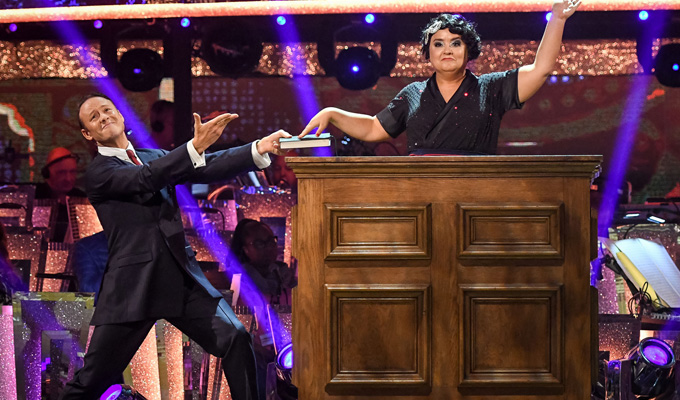 Susan Calman divides the Strictly judges
Susan Calman has improved on her performance in the second week of live Strictly Come Dancing Shows.
She and dance partner Kevin Clifton scored 22 points from the judges - two more than last week - and came eighth in the leaderboard, up from ninth last week.
The pair danced a Charleston to If You Knew Susie, basing it on Calman's past as a lawyer. Clifton appeared in a barrister's wig petitioning the judges as the comedian looked distraught in the dock - before they danced together.
Host Tess Daly said: 'If entertaining is a crime, you two are definitely guilty!'
But the dance split the judges.
Awarding a meagre three out of ten, Craig Revel Horwood said: 'The basic requirement of this dance is swivel, and you had none of it, darling.'
However the other judges were more forgiving.
Darcey Bussell gave a 6 and said: 'I think you made this dance your own - naughty Susan. Kevin was running around after you like a mad thing. Craig's a bit right, there's got to be exaggeration with every move in this dance but you really sold it. You brought so much life to it. I enjoyed watching every minute.'
Head judge Shirley Ballas said: 'You're bright, you are entertaining, you are synchronised and coordinated. I loved it!' And gave them a 7
Excitable Bruno Tolioni gushed: 'I found you guilty of having too much fun! How dare you!'
Making reference to the Top Of The Pops dancers of the 1970s, he said: 'The facial expressions… it was like Pan's People gone demented. I loved it! Just be careful and be sharper on the footwork.
He awarded six points, making a total of 22.
Published: 30 Sep 2017
Recent News
What do you think?