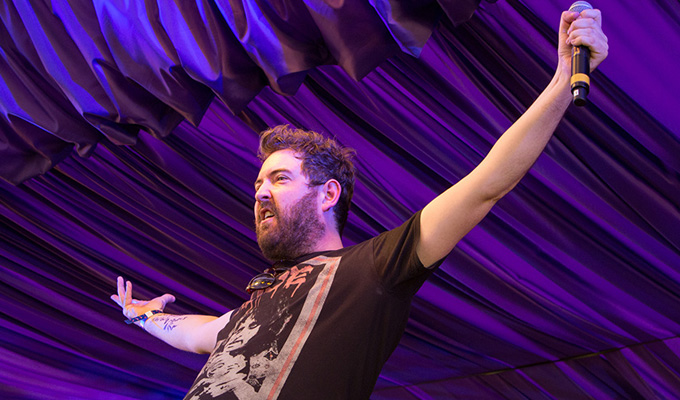 Nick Helm hits the road
The week ahead in live comedy.
Sunday 24 September 24
LONDON: There's a great line-up at Suspiciously Cheap Comedy tonight, the new material night run by sketch outfits Gein's Family Giftshop and Goose at the Backyard comedy club in Bethnal Green. On the bill are 2017 Edinburgh Comedy Award nominees Spencer Jones and Jordan Brooks, The Island survivor Mark Watson and more. All for a suspiciously cheap fiver.
MANCHESTER: Fresh(ish) from Britain's Got Talent, Jonny Awsum's light, fun and feelgood show Honey I Promised The Kid is at the Frog and Bucket tonight and London's Leicester Square Theatre tomorrow. Review
Monday September 25
TEWKSBURY: Ed Byrne chooses the Roses Theatre to kick off off what's billed as his biggest ever tour, Spoiler Alert, which spreads right through until March next year. The title is a reference to whether we are all spoiled, and looks at the difference between 'righteous complaining and brat-like whining'. Here are all the dates.
Tuesday September 26
LONDON: Rob Delaney, he of Catastrophe and 'being rather a good stand-up' fame is at the Leicester Square Theatre. Tickets are as rare as a Donald Trump moral, but he's back four four nights next week too.
CANTERBURY: A fine line-up of the best of verge-of-breakthrough comics gathers at the Marlowe Theatre, all with material that's funny as it's thought-provoking: Alfie Brown, Fin Taylor, Ivo Graham and Yuriko Kotani.
Wednesday September 27
BELFAST: After the Queen's Comedy Club announced that it's to close after 25 years, its new season kicks off at Mandela Hall with delightful storyteller Carl Donnelly.
Thursday September 28
LONDON: Katy Wix, from Not Going Out and loads of other things, makes a rare live appearance at Knock2Bag at the Moth Club.Just one highlight of a bill in Hackney that also includes the skilful Kiri Pritchard-McLean, rapping Doc Brown and super-inventive Jordan Brookes.
LONDON: 'French' flaneur Marcel Lucont brings his Cabaret Fantastique back to the Underbelly Festival,with guests including the unpredictably deranged Terry Alderton.
NOTTINGHAM: Astute, and often fed-up observational comic Kerry Godliman starts a new batch of dates in her Stick Or Twist tour at the Glee, the new leg taking her through to Reading at the start of December. Dates
Friday September 29
BIRMINGHAM: It's hard to believe, but this is the first national tour for high-impact comic Nick Helm. The giddy cocktail of bluster and vulnerability takes to the road after Dave launched his food travelogue Eat Your Heart Out, and after his appearances on Uncle, Live At The Apollo and Cats Do Countdown and more. The 'living legend and national-treasure-in-waiting' (it says here…) delivers Home Truths about life, love and how not to be a dick in the wonderfully titled There Is Nothing You Can Do To Me That I Haven't Already Done To Myself, which kicks of at the MAC tonight Dates
Saturday 30 September
LIVERPOOL Former BBC New Comedy Award winner Steve Bugeja kicks off the tour of his third solo show, Summer Camp, about his time as teenage counsellor for Camp America, at the Hot Water Comedy Club. Click here for a review and schedule.
EAST KILBRIDE: Susie McCabe, who was the fastest selling act at this year's Glasgow International Comedy Festival embark on a Scottish tour of her show Let's Get Physical, about her shunning the takeways and cigarettes in a bid to get into shape. Dates.
• Search our full listings for comedy near you using the pull-down menus on the left of this page.
Published: 24 Sep 2017
What do you think?