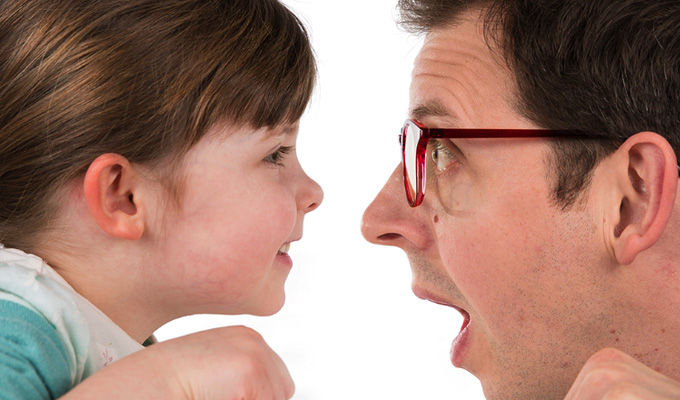 Jonny Awsum: Honey I Promised The Kid
Note: This review is from 2017
A feelgood, crowd-pleasing show if ever there was one. You may know Jonny Awsum from when he went viral earlier this year, thanks to an audacious performance on Britain's Got Talent that literally got Ant and Dec in on the act.
Awsum doesn't waste the opportunity to show us the footage of him appearing on primetime telly and getting a smile out of Simon Cowell, but it is actually relevant to the show.
His main purpose in Honey I Promised the Kid is to make good a promise he foolishly made to his daughter: that he would once perform onstage at the O2 Arena. He made this vow when she was a baby, and he might have got away with it had she not found out five years later and told everyone in her class.
Awsum thus walks us through the whole thing: the chat with a member of Boyzone which triggered it, the photo in the attic that brought the forgotten promise crashing into the present.
In his desperation to somehow sing at the O2, he approached every act who was playing there, writing songs for them explaining his situation, and tried to blag it on stage while dressed as a Harlem Globetrotter. Reginald D Hunter even pops up to offer advice, and then there's his appearance on Britain's Got Talent.
It helps that Awsum has genuine songwriting ability – the tracks that help tell his story are enjoyable in their own right as well as funny, like his brutally realistic lullaby for his daughter, and a ditty that's meant to distract her so that she forgets about the whole 'I'm gonna play the O2' thing. There are some good gags as well; I loved the idea of him giving his daughter a big spiel about agents and 'the industry' and how unlikely it is he'll achieve his goal.
Honey I Promised The Kid is a very conventional show, which may put some people off, but it's mightily effective. He makes sure his story has all the requisite highs, lows and nearlies, and he really gets the room going, instigating singalongs, flattering them, pitting them against previous audiences.
Awsum is such a friendly, generous host I can't imagine him doing a show without getting the audience involved. And of course the family dynamic pulls at the heartstrings - there are some very sweet photos of Awsum with his daughter.
It's a show that feels a long way from the arty, confessional side of the Edinburgh Fringe. Instead, it's unpretentious and uncynical – and very good indeed.
Review date: 19 Aug 2017
Reviewed by: Paul Fleckney
Recent Reviews
What do you think?