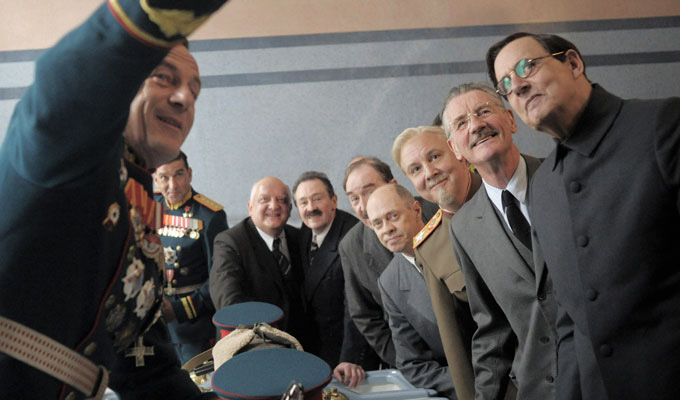 Russia could ban Iannucci's Death Of Stalin
Armando Iannucci's new comedy movie The Death Of Stalin could be banned in Russia for 'discrediting' the former Soviet leader.
The country's Community Party thinks the satire is unfair on Stalin, whose regime was responsible for an estimated 20 million deaths in labour camps, forced collectivisation, famine and executions.
Spokesman Alexander Yushchenko said that the movie is an 'abomination' and called on the Culture Ministry to refuse the licence needed for it to be screened.
And Sergei Obukhov, Secretary of the Communist Party Central Committee called the film 'another form of psychological warfare against our country'. He added: 'Discrediting the leaders of the country, and especially the commander-in-chief during the Great Patriotic War - is to belittle Russia's role in the world affairs.'
Russia's state-run news agency RIA Novosti reports that the Culture Ministry is scrutinising the film for factual inaccuracies and for 'provocation'. The Communists are the second biggest party in Russia.
The Death of Stalin premiered at the Toronto Film Festival earlier this month and fictionalises the in-fighting in the Kremlin that followed Stalin's death in 1953.
At the time, Iannucci told Variety he was not making light of the millions killed under Stalin's regime.
He said: 'We're not making fun of the fact that people died, we're using the comedy to explore what was in the mindset of the people who made these decisions. It's a form of nervous comedy bordering on hysteria at some points.
'I was making a funny film, but I also knew that some scenes weren't supposed to be funny, and that other scenes would be dramatic or emotional.'
The Death Of Stalin stars Steve Buscemi as Nikita Khrushchev, Michael Palin as Soviet diplomat Vyacheslav Molotov and Jeffrey Tambor as Georgy Malenkov, who briefly succeeded Stalin. Paul Whitehouse, Justin Edwards, Simon Russell Beale , Paddy Considine and Andrea Riseborough are also among the cast.
It is due out on October 20 in the UK. Here is the trailer:
Published: 20 Sep 2017
Recent News
What do you think?