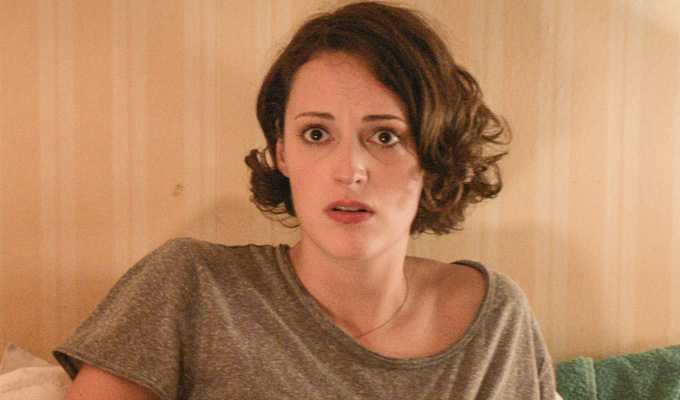 Fleabag to get a second series
Fleabag is to get a second series, it has been announced.
The news was broken at the Edinburgh TV festival, where producer Lydia Hampson said: 'We are going to do a second series. It's going to be on your screens in 2109, so it's quite a long way but it's happening.'
Star and creator Phoebe Waller Bridge added: 'We struggles about how to come back. We didn't want to stretch the story any further. That's what taken us so long.
'But then I was on a bus and had an idea.'
In a statement, she added: 'I asked myself if Fleabag has more to say and frankly she hasn't shut up since. Series two will be a whole new adventure, and I'm beyond thrilled to be coming back."
BBC comedy chief Shane Allen added: 'Fleabag signalled the arrival of a hugely distinctive writer with the mesmerising performing talent to match.
'Phoebe's career has shot up like a firework display in the last year and the show has been rightly hailed as a modern classic. It'll be thrilling to see where she takes the character in the next series.'
The series stemmed from a stage show, which started as a ten-minute monologue for a storytelling night run by comic Deborah Frances White. It then transferred to Edinburgh – and director Vicky Jones said that the script had not been written two weeks before the festival started.
Waller-Bridge said: 'Literally I was writing the ending on the train to Edinburgh. I was crying. It was quite smash-and-grab, it wasn't something we really ever wanted to do
'That ten minutes I knew was going to be the tone. It was gags after gags after gags but I wanted a heart-rending ending.
'The next two weeks we basically me going back through my life thinking of the most humiliating moments andbringingg some jokes in. It did feel like a splurge of something.
She said she had taken dramatic licence in the story, so it was far from autobiographical, but added: 'A lot of the humour and jokes and the unfortunate one-off embarrassing moments have come from my own life, It was very cathartic putting it out to the nation.
Jones added: 'It did feel like no one was going to see it so we could say whatever we wanted to say to amuse ourselves.'
Hampson added that the only thing that changed in the transfer from stage to screen was that 'we didn't kill the hamsters the BBC wouldn't let us do that
Waller-Bridge spoke of the benefits of having run the show through in front of an live audience, saying: 'With comedy and sitcoms to go at it cold and based on your own instinct is so hard.'
She said she was 'sightly grumpy that any show written by a woman about a woman is categorised as a feminist show' – but was proud to call Fleabag a feminist show.
And of its reputation for being explicit, Waller-Bridge said: 'The funny thing is that there's no explicit nudity or anything on screen. I think it was the candour of the language that made it seem like that. It's called "Shockingly filthy" and I think, "is it?"
'It's odd that was picked up when there's so much wanking and shagging in male sitcoms. I have one little wank…'
Published: 25 Aug 2017
What do you think?