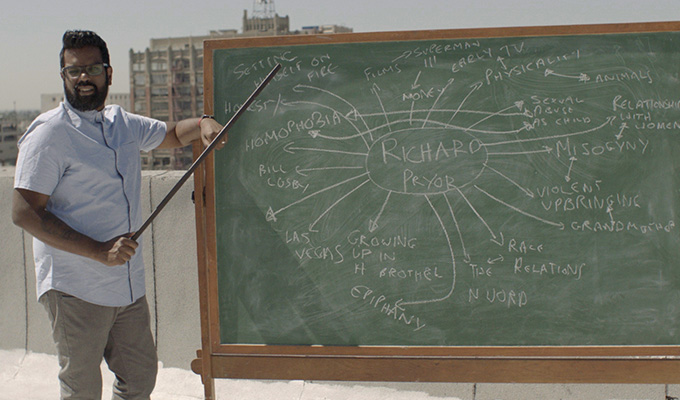 Romesh Ranganathan to make Richard Pryor film
Romesh Ranganathan has made a film about his idol Richard Pryor, Chortle can reveal.
The documentary follows the comic as he travels to Los Angeles to speak to those who knew Pryor privately and on the comedy scene.
In the film, Ranganathan also compares his comfortable existence to the troubled life of a man he considers the greatest stand-up of all time.
Passions: Richard Pryor by Romesh Ranganathan will air later this year on Sky Arts as part of a season of films by artists about their creative inspirations.
Ranganathan, who has a tattoo of Pryor on his right forearm, said of the hour-long programme: 'It was great to be able to explore the genius of Richard Pryor and learn more about one of my heroes.
'Spending time in LA talking to various people about his life, I felt grateful for both the experience and for the fact he didn't spend his life in Hastings.'
Exploring what made Pryor such a revered performer, Ranganathan will extol his uncompromising honesty, on-stage freedom and fierce topicality.
Ranganathan has described his Pryor tattoo as 'the source of so much piss-taking', but explained: 'I love Richard Pryor, I'm just obsessed with the dude, properly obsessed. I like the fact that he could talk about horrible stuff and it be funny. Real stuff, vulnerable. He made a funny routine about setting himself on fire. You watch this guy talking about the really horrible moments in his life and he does it in such a funny way.
'Everyone knows he was basically a Bill Cosby tribute act for a while, had this epiphany and started being really honest. That's what appeals to me. So I had this tattoo done… The one thing you can say about it, it's not a shit tattoo, it does look just like him… My eldest son thinks it's me. He thinks I got myself tattooed on. I like it, nobody else does, that's the honest truth of it.'
Ranganathan previously appeared in radio DJ Nihal Arthanayake's Passions film about hip-hop which aired in April. Other episodes in the first series included Harry Hill's appreciation of Damien Hirst and Julian Clary's film about Noel Coward.
Earlier this month, Ranganathan also hosted a non-broadcast pilot for a new comedy gameshow, My Family Rules, in which celebrity guests discuss weird family traditions.
The Richard Pryor film is made by Rumpus Media, which also made Asian Provocateur with Ranganathan, as well as the upcoming Comedy Central series Joel and Nish vs the World with Joel Dommett and Nish Kumar and recent documentaries with Jon Richardson, Barry Humphries and Henning Wehn.
Directed by Chris Cottam, regular helmer for Rich Hall's documentaries about the US, the film is produced by Ben Rogers and was commissioned by Bill Hobbins for Sky Arts, with Rumpus's Emily Hudd executive producing.
Hudd said: 'We are thrilled to be working with Romesh again on this documentary. Getting the insiders take on Pryor's comedy and life from someone who is himself a brilliant stand-up is a real treat.'
- by Jay Richardson
Published: 21 Jul 2017
What do you think?