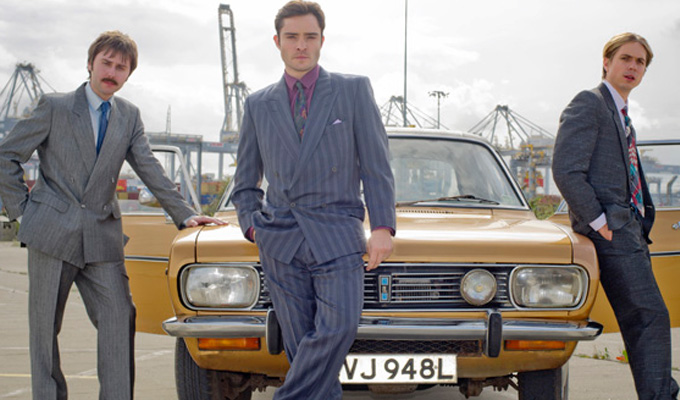 BBC Two orders more White Gold
White Gold will return for a second series on BBC Two, with the story moving to Spain, Chortle can reveal.
Another six half-hour episodes of the eighties-set sitcom about dodgy double glazing salesmen, starring Ed Westwick, Joe Thomas and James Buckley, have been commissioned from writer Damon Beesley.
The show's first series, which ends tonight, concludes with the corrupt Vincent Swan (Westwick) falling from grace.
The second, shooting later this year to air in 2018, finds the Cachet Windows team delving deeper into Essex's criminal underworld, with the plot moving abroad to include a Spanish timeshare apartment scam.
Beesley, The Inbetweeners co-creator who directs and writes the sitcom, loosely based on his father's time as a double glazing salesman, said: It's both an honour and a pleasure to be working with the BBC again on a second series of White Gold.'
'I like to think of it as selling them a series two conservatory to go with their series one patio doors. I'm especially looking forward to watching re-runs of Top of the Pops '85 for "research"'.
White Gold was BBC Two's biggest comedy launch of the year, attracting 900,000 viewers for its first episode – up on the average 844,000 overnight figure for the slot.
It was also the second most successful comedy on iPlayer behind Peter Kay's Car Share, with over five million downloads.
The new series was commissioned from Fudge Park Productions, which Beesley founded with his Inbetweeners co-writer Iain Morris, by BBC Two controller Patrick Holland, and Shane Allen, controller of comedy commissioning.
Allen said: 'Vincent Swan charms his way back on screen alongside this outstanding ensemble cast for another series. The reaction to the first series has been terrific, with an enormous audience boost from the iPlayer box set release.
'In series two, the swindles spread abroad to cover the Spanish timeshare apartment gold rush. Expect to see Ed Westwick in some tight swimming trunks.'
The series producer is Phil Gilbert and the executive producers are Iain Morris, Caroline Leddy and Simon Wilson.
Reviews for White Gold's first series were decidedly mixed, with The Sun saying that the main characters 'laddish banter continues to take our breath away as this sitcom gathers momentum', while the Daily Record felt it was 'utter drivel … between the wooden acting from Buckley and Thomas and the stale, tired jokes, Westwick is the only shine on this turd of a TV show.'
The Telegraph reckoned it was 'nice to look at but slightly hollow', the Guardian called it 'a bewildering throwback to an era best forgotten', while the Daily Mail felt it 'wasn't a complete failure, but it's crude and blunt instead of polished and sharp'.
By contrast, Chortle felt its 'big, outrageous scenarios' were 'the beating heart of White Gold – and it's fun to share those moments, however vicariously.'
- by Jay Richardson
Published: 28 Jun 2017
What do you think?