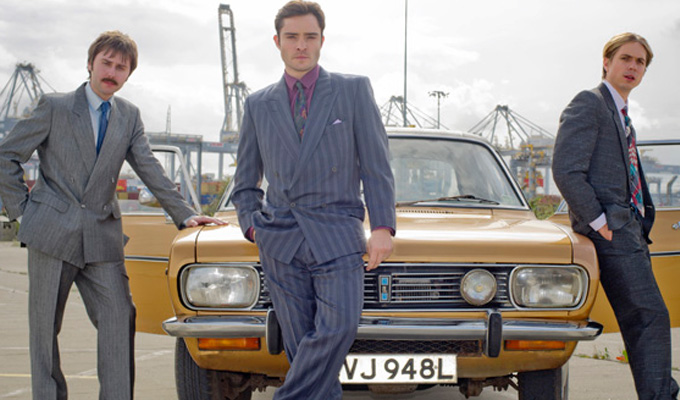 White Gold
Men behaving badly in a period piece? White Gold could be the British answer to Mad Men… or the Wolf Of Wall Street? The Wolf of Westcliff, perhaps, given its setting in Essex in the the world of 1980s double-glazing salesmen.
BBC Two's new comedy certainly embraces the Thatcherite mood of the time. Lead character Vincent Swan – played by Gossip Girl smoothie Ed Westwick – is as egotistical, greedy and amoral as they come. Even other shady salesmen call him a conman, selling cheap plastic frames at an incredible mark-up the new generation of homeowners, freshly exercising their right to buy, cannot really afford. Charisma can be very persuasive – and so it proves in the appeal of White Gold.
James Buckley is second fiddle as smart-talking spiv Brian Fitzpatrick, who likes nothing better than winding up his colleague Martin Lavender (Joe Thomas) a softer touch, not driven by the thrill of the sale like the others. In a nice detail, it turns out he quit a band just before they got famous.
This is just one of the plentiful period elements, from a corking soundtrack to Brian's casual racism – though Martin pulling him up on it seems more of an anachronistic nod to today's sensibilities. But mainly, like Life On Mars before it, White Gold's setting primarily allows for the series to exude a laddish swagger that might have to be kept more in check today.
For although the show clearly has parallels with its American counterparts, the stronger link is with other loveable rogues of 1980s British comedy-drama like Del Boy or Arthur Daley – and they are big sheepskin/camelhair coats to fill. Westwick all has the right attributes, driven by ballsy mischief more than malice, though it's too early to tell whether he'll have anything like the same impact as those illustrious forebears.
In their scenes, Buckley and Thomas trade the sort of amusing, juvenile bickering that would be familiar from their patter on The Inbetweeners, no wonder given writer Damon Beesley is behind them both. Much has been made of this link, and there are certainly similarities in the bantery tone between the two programmes.
Zippy dialogue aside, there's a lot of exposition in the first episode, even if these characters don't have huge amounts of hidden depths – their superficiality being an asset, not a liability in this world. Yet the pace is kept brisk, thanks to the half-hour format – a boon after Channel 4's Loaded watered down its comedy into a hour-long comedy-drama slot. And next week's offering provides a more obvious comic scenario, which is funny despite being unsubtle.
Or should I say because of being unsubtle, because revelling in the big, outrageous scenarios is the beating heart of White Gold – and it's fun to share those moments, however vicariously.
• White Gold starts on BBC Two at 10pm tonight.
Review date: 24 May 2017
Reviewed by:
Recent Reviews
What do you think?