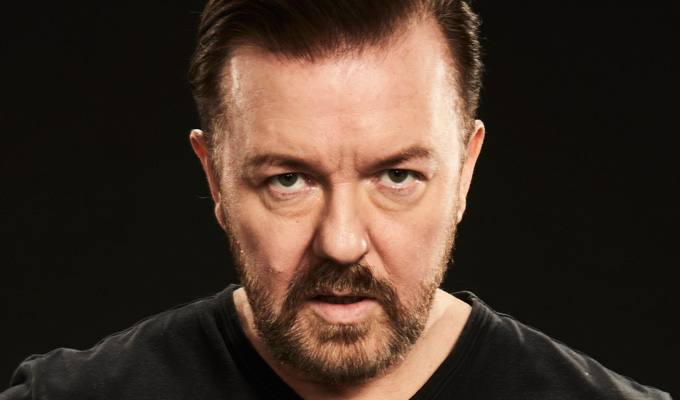 Ricky Gervais reveals plans for a new sitcom
Ricky Gervais is planning a new sitcom about a fiftysomething man who splits from his wife.
The comic also plans to star in the comedy, called Attached, about the character's struggles with the newfound harsh realities of life.
He revealed that his written a few pages of the script when he was interviewed by The Hollywood Reporter critic Tim Goodman in front of an audience in New York.
Gervais said the sitcom could be some years away, as he first wanted to start working on another stand-up tour, once he's finished his current Humanity dates, having discovered a new-found love of the genre.
But he said that although he had intended to take most of this year off for hte tour, 'once the gig's up and running I feel guilty about having the whole day to myself'.
So he has spent the days mulling new ideas, revealing: 'I have about five projects and I think I've narrowed it down to one thing which is a sitcom. And I've written five pages on tour, that's it, so I don't even know if this is going to win.'
Asked to reveal more, he said: 'I probably shouldn't but… The idea is I get separated from my wife, and I have to move in with an absolute loser relative.
''I've lost everything. I haven't got a house, I haven't got a job because I was a bit of a kept man, and now I have to start dating again So it's horrendous.
'At 55, I've got to start from scratch, and all I want is her back. It's called Attached. It's about me trying to cope without this lifelong partner, and how the real world is harsh. It's gonna be harsh.'
He also said he was making a behind-the-scenes film – 'I was going to say movie but that's too high-falutin' – about the Humanity tour
Here is the full interview, conducted at the Kaufmann Concert Hall at the 92nd Street Y, ahead of his stand-up date at Madison Square Garden:
Published: 22 May 2017
What do you think?