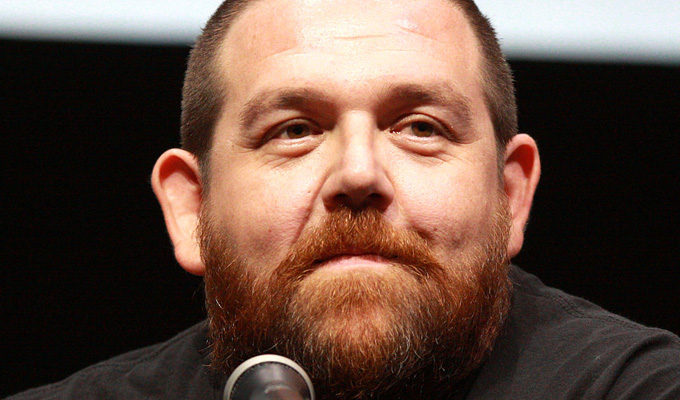 Battling barnacles! Nick Frost to play Captain Pugwash
Nick Frost is to play Captain Pugwash in a live-action movie based on the cult children's character.
'Besides Winston Churchill and Henry VIII, Captain Horatio Pugwash seems like a role I was born to play,' he said. 'I can't wait to get going.'
The film, which starts production next year, will have the pirate travelling to Botany Bay, where he eventually finds himself at the helm of The Black Pig on a mission to rescue Tom the Cabin Boy's father, who is marooned on a volcanic island.
Lock Stock and Two Smoking Barrels actor Jason Flemyng will also star in the film, with more casting to be announced.
Producer Justin Johnson, from Atticus Pictures, said it would be a 'funny, fresh, indie take' on the characters, adding: 'It will be as if Peter Cook had run into Blackadder at a party, had a few too many rums and set off on a mad voyage together. In fact a lot of the time we think it will be adults who will be dragging their kids along to see what we've made of their childhood hero.'
Added Jenkins said: 'Nick just has funny bones and he's perfect to bring our pompous, cowardly, pugnacious, fun-loving hero to life.'
Originally as a series of comic strips and books by cartoonist John Ryan, Captain Pugwash was first adapted into a TV series in 1957, using cardboard cut-outs. It returned for 30 episodes from 1974 to 1975; and another 26 in a 1997 revival.
There is a persistent urban legend that says some of the characters had sexually suggestive names – such as Master Bates, Seaman Staines, and Roger the Cabin Boy – but Ryan successfully sued when newspapers for printing this myth as fact. Pugwash's nasal pronunciation of Master Mates may have given rise to the legend.
Pugwash is being written and directed by John Hay, who previously created There's Only One Jimmy Grimble.
Published: 19 May 2017
What do you think?