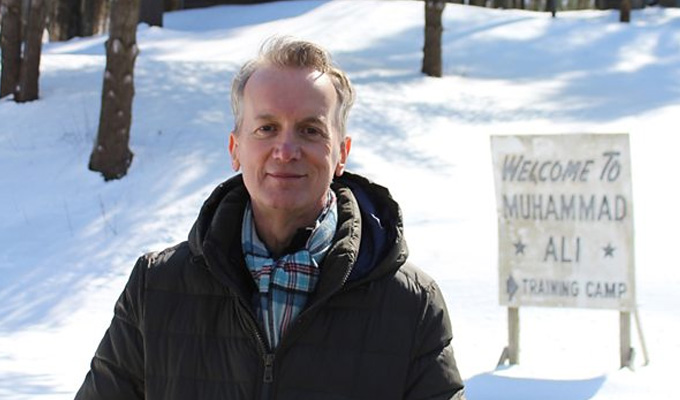 Frank Skinner's Muhammad Ali film confirmed
The BBC has confirmed details of Frank Skinner's documentary about Muhammad Ali.
As Chortle reported last month, the comedian had been filming at his boxing heroes training camp in Pennsylvania.
It is one of several locations Skinner visited for the one-off, hour-long programme, which will air on BBC One
In Ali's hometown of Louisville Kentucky he meets the next-door neighbour who witnessed the teenage boxer's single-minded dedication to his craft. He meets Ali's younger brother Rahaman, a key figure in the boxer's entourage and his closest confidante. He meets Ali's wife Khalilah, who stood alongside her husband when he was banned from boxing for refusing to fight in Vietnam.
Skinner also met the bare-knuckle boxer from an Oxfordshire council estate who became one of Ali's dearest friends, and the actor who played alongside Ali in a little-known musical on Broadway.
The BBC says: 'This documentary special will be more than a profile piece on the greatest sporting hero of the 20th century, it's also a very personal journey filled with Frank's own expertise and insight.'
And the comic himself adds: 'I loved Ali since I was a child. I loved the warrior, the entertainer, the craziness that surrounded him.
'I met him, as a trembling fanboy, a few times in the 1990s, but I only had the courage to ask for an autograph and a couple of photos. This project gave me the chance to question his family, friends and his boxing inner-circle and explore the truth about the man.'
The BBC's commissioning editor, Sarah Clay, said: The thing that marks this film apart from others about Ali is Frank's unique perspective. He brings humour and passion to this beautifully authored piece, giving insight not only into Ali's life but also his own.'
The broadcast date for the show has not yet been announced but it may be close to the first anniversary of his death on June 3 last year.
The special will be made by David Walliams and Miranda Hart's production company King Bert, and is produced and directed by Mary Crisp.
Published: 4 May 2017
What do you think?