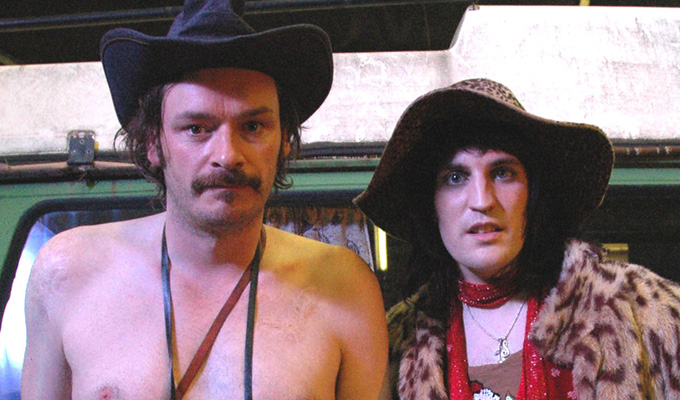 Mighty Boosh are planning 'a live thing'
The Mighty Boosh are heading for a stage comeback.
Julian Barratt said that he plans to reunite with Noel Fielding for 'a live thing' soon - and that 'off the back of that, we'll put together the next phase of Old Man Boosh'.
That next project could be the long-anticipated Boosh film – especially if Barratt can prove himself a big-screen draw with the success of his new movie, Mindhorn.
In an interview with Chortle to promote the new release, Barratt admitted: 'The difficulty is because we've got very different trajectories and live in different timezones. I've got kids and he's got Bake Off.
'When I saw him on the front of the Daily Mail, I thought "Oh God, what's he done? Got caught in some kind of awkward situation?" They'd picked a picture of him looking rock 'n' roll, hungover, and were trying to say how debauched he was. But I think it's great and it'll help him launch the next phase of what he wants to do.'
Barratt also revealed that a TV special could be made based on the fictional detective at the centre of Mindhorn.
The movie revolves around washed-up actor Richard Thorncroft, whose hubris meant his career turned to dust after the short-lived success of the fictional 1980s TV series about an investigator with a bionic eye that could 'literally see the truth'.
Now that show could become reality, with a retro-one off for an undisclosed broadcaster. 'We are definitely interested,' Mindhorn co-creator Simon Farnaby said.
'It depends on how the film is received but I'd love to do it,' Barratt agreed. 'We've been mucking around with the idea of going back to the Isle of Man if the film is a success, if it gets its own following.
'I don't know if you could do a series of that though. Garth Marenghi did it brilliantly but that was a while ago. Watching some of those old shows, it's very hard to make things even half as funny as they are when they're not intending to be.'
• Click here to read our full interview with Barratt and Farnaby.
Published: 2 May 2017
What do you think?