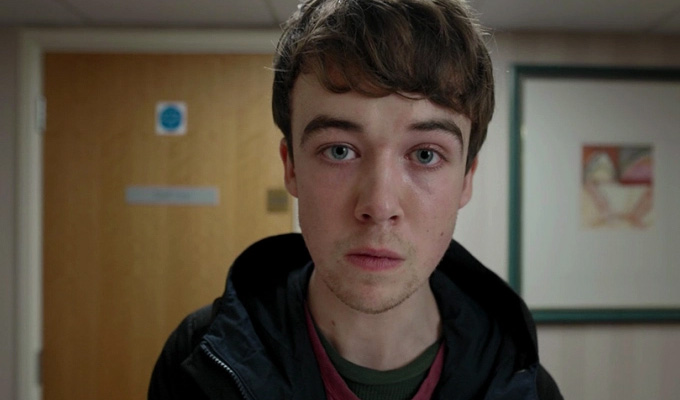 It's the End Of The F***ing World for E4
Channel 4 is making a 'darkly comic' series based on The End Of The Fucking World graphic novels.
Filming begins today with Alex Lawther (who played blackmailed Kenny in the Shut Up And Dance episode of Black Mirror, pictured) and Jessica Barden from harrowing Channel 4 drama Ellen, leading the cast.
Eight half-hour episodes are being shot to go out on E4 and Netflix later this year.
Lawther and Barden play teen outsiders James and Alyssa, who embark on a road trip to find Alyssa's father, who left home when she was a child.
James is pretty sure he's a psychopath – emotionally detached, cold and disdainful – and certain he's ready to graduate from killing animals to killing a human, While Alyssa is described as 'existential angst made flesh' despite being popular at school.
Channel 4 calls the series 'a journey of discovery that becomes progressively ominous as James's urge to act on his sociopathic and violent inclinations increase while Alyssa, blinded by young love, remains wilfully ignorant of the consequences that lie at the end of the road.'
The series is being written by Charlie Covell, who worked on Gap Year and previously appeared as Trish in three episodes of Peep Show.
She said: 'From the minute I got sent Chuck Forsman's comics to read, I wanted in. They're beautiful, and they tell a dark, unconventional coming-of-age love story. It has been a massive privilege to bring Chuck's characters to screen.'
Roberto Troni, commissioning editor at Channel 4, said: ;From the instant we were introduced to the utterly original Charles Forsman graphic novel we knew it was something special. It's by turns funny, brutally violent, ultimately quite uplifting in a screwed up way.
'If David Lynch made a rom-com road movie about a pair of teen misfits in British suburbia it might look something like The End of the F**cking World. What could be more E4?'
The series is produced by Clerkenwell Films and Dominic Buchanan Productions. Jonathan Entwistle and Lucy Tcherniak will direct.
Entwistle directed a pilot in 2014 with a different cast, and at the time described it as 'Dawsons Creek directed by Tarantino'.
Click here to watch a trailer for that pilot:
Published: 24 Apr 2017
What do you think?