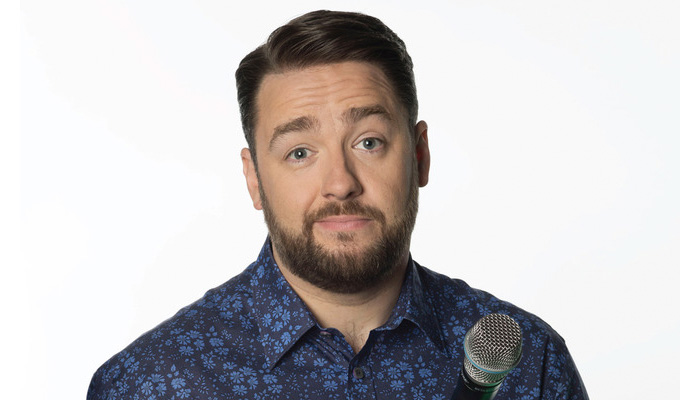 Jason Manford pilots BBC One cooking show
Jason Manford has piloted a cookery gameshow for BBC One.
My Mum Cooks Better Than Yours is based on a Spanish primetime format, and the comic taped his trial episode of a UK version just outside Lisbon.
The original, which has spawned versions in 11 countries, features two family members competing for a €1,000 prize by cooking the family's best-loved recipe against the clock. The twist is the parents must direct their children 'who are a disaster in the kitchen'.
Manford was joined on the pilot by celebrity chef Monica Galetti, who currently hosts BBC Two's Amazing Hotel with Giles Coren and has just opened the restaurant Mere in London, having been a Masterchef judge for the past eight years.
Manford posted a selfie of them both on social media, saying: 'Spending the day with @MGalleti01 in Lisbon, Portugal! I've had worse days! '
My Mom Cooks Better Than Yours International Format Promo from fm bed on Vimeo.
My Mum's producer is Harry Hill's Tea Time's Russell Balkind and the commissioner is Ruby Kuraishe for the BBC.
Programme makers Talkback have become best known for Keith Lemon's ITV shows in recent years but previously made the cookery gameshow Cooking The Books for Channel 5.
My Mum is the BBC's latest attempt to find a replacement for The Great British Bake Off after losing it to Channel 4. The Big Family Cooking Challenge is set to air on BBC Two shortly.
Manford today also announced a major UK tour for next year, Muddle Class, about his climb up the social ladder.
It's his first tour since First World Problems in 2013 and 2014, and the first tickets are now on sale here. He sold 25,000 tickets in the first two hours.
Manford said: 'Somebody said to me on my Facebook fan page, "it's been ages since you've toured". I thought "no way, it was last year wasn't it?"
'Anyway, long story short, they were right, it was years ago! I just got fooled cos I've been on tour doing musicals and the last tour is repeated on Dave Ja Vu 13 times a day!
'So I've been putting some stuff together, looking at my life and how it's changed over the years, how the world has changed and how my parents haven't changed a bit.'
Manford will next be seen hosting the gameshow Bigheads on ITV, in which members of the public don enormous celebrity heads in the style of It's A Knockout to compete in a series of physical games.
He has written his own children's cartoon, Daisy & Ollie, and makes a guest appearance in the next series of Benidorm.
By Jay Richardson
EDITED MAY 19: The original article incorrectly stated that this was a Portuguese format, not Spanish.
Published: 18 Apr 2017
What do you think?