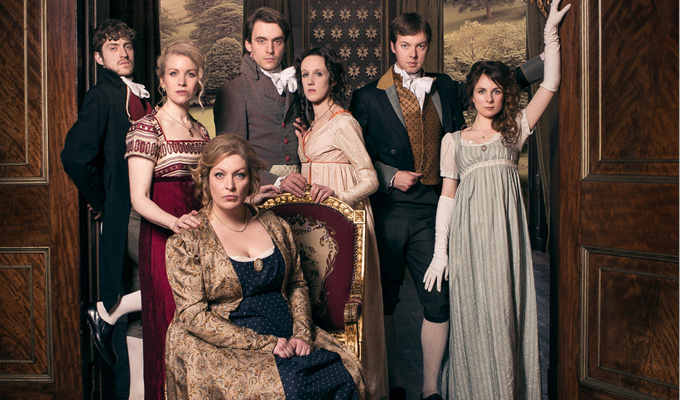 Radio 4 commissions Austentatious
Hit improv troupe Austentatious, who create spontaneous stories in the style of Jane Austen, have landed their own Radio 4 show.
An initial one-off will air in June, ahead of the bicentenary of the novelist's death, with hopes for more to follow.
Six of the core cast of the acclaimed touring show – Cariad Lloyd, Joseph Morpurgo, Rachel Parris, Andrew Hunter Murray, Daniel Nils Roberts, Amy Cooke-Hodgson, Graham Dickson and Charlotte Gittins – will be involved.
They will record two shows in front of a live audience at London's Drill Hall in May, which will then be turned into a 30-minute broadcast.
'The nice thing is that we're going to do it live in our costumes with radio mics,' Lloyd told Chortle. 'The audience will get a proper Austentatious. With impro, there's often a temptation to format it [for broadcast]. But we want to capture that feeling of discovery, of being in the room.'
Set for a Sunday afternoon slot and produced by Jon Harvey for Hat Trick Productions, who made Whose Line Is It Anyway?, Austentatious is believed to be Radio 4's first long-form improvised comedy since Showstopper! The Improvised Musical in 2011.
However there will be 'slight changes' to the usual format, with Lloyd anticipating that introductory character and celebrated 'Janeographer', Dr Sam Patton, may feature more heavily.
'But good impro is just people connecting and having good conversations, that's hopefully still good radio' she added. 'The handy thing with Austen is that it is so verbal and so much about language. That's why it should work on radio as well as it does live.'
Austentatious will return to the Edinburgh Fringe in August and will perform in France and Germany this year.
Lloyd said 'we are definitely keen to do more' on radio, adding: 'It depends on Radio 4. It's tricky with impro, everyone can get very nervous about it.
But she said that Radio 4's commissioning editor for comedy, Sioned Wiliam is 'very keen about it'. 'She really likes the stuff that we do, so we're hoping there will be some more. But we have to see if we're happy with it as well.'
Austen died on July 18, 1817, and a series of events are planned across England to mark the landmark anniversary.
By Jay Richardson
Published: 23 Mar 2017
What do you think?